Ted Cruz Takes a Stand Against Operation Choke Point
"The Obama administration initiated Operation Choke Point to punish law-abiding small businesses that don't align with the president's political leanings," says Cruz.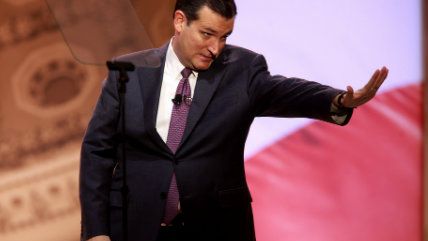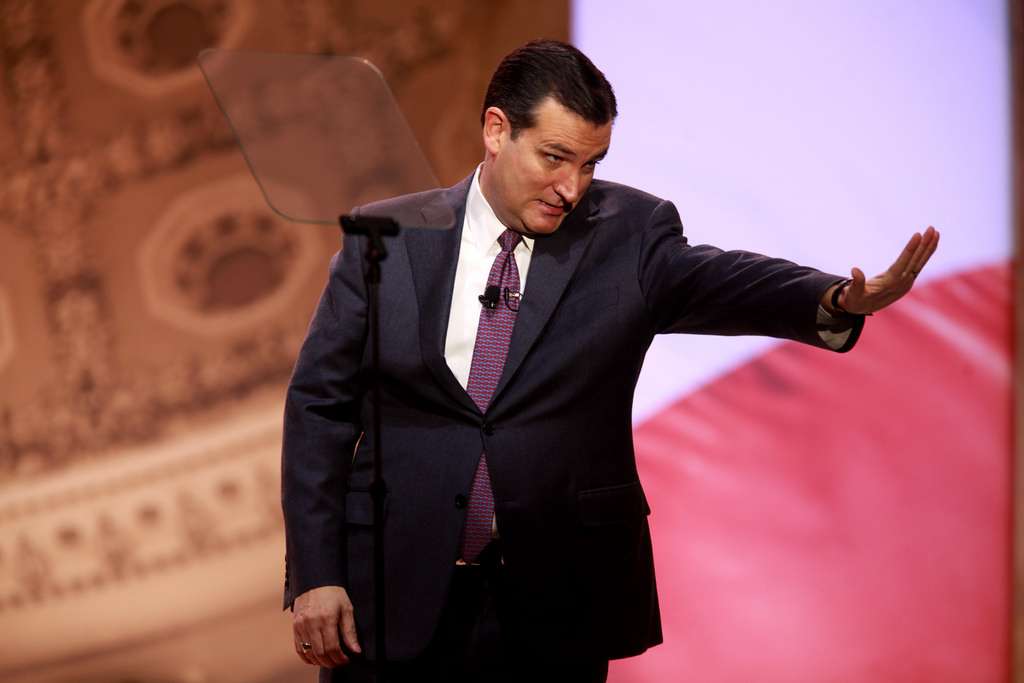 For the first time since he announced his presidential ambitions, Texas Sen. Ted Cruz (R-Texas) is doing something I can applaud. Teaming up with fellow Republican Sen. Mike Lee (Utah), the Cruz has introduced a measure to bring down "Operation Choke Point," the Department of Justice program that pressures banks into dropping "risky" clients like porn stars and gun shops.
"Under President Obama's reign, the DOJ has abandoned its longstanding tradition of staying out of politics and has instead become a partisan arm of the White House," Cruz said in a statement Wednesday. "The Obama administration initiated Operation Choke Point to punish law-abiding small businesses that don't align with the president's political leanings. The DOJ should not be abusing its power by trying to bankrupt American citizens for exercising their constitutional rights."
Cruz and Lee's bill serves as a companion to the Financial Institution Customer Protection Act (H.R. 766), which passed the U.S. House of Representatives in February. The measure would prohibit federal officials from ordering banks to terminate customer accounts without a good justification for doing so. Specifically, it states that "the appropriate Federal banking agency may not formally or informally request or order a depository institution to terminate a specific customer account or group of customer accounts or to otherwise restrict or discourage a depository institution from entering into or maintaining a banking relationship with a specific customer or group of customers unless—(A) the agency has a material reason for the request or order; and(B) that reason is not based solely on reputation risk to the depository institution."
The bill also states that federal regulators must issue an annual report to Congress providing "the aggregate number of specific customer accounts that the agency requested or ordered a depository institution to terminate during the 1-year period preceding the issuance of the report" and "the legal authority on which the agency relied in making the requests and orders described."
Operation Choke Point was initiated in 2012 and has been controversial all along. "Since the program's inception, many gun sellers, pawn shops, and short-term lenders reported their bank accounts being shut down," The Daily Signal notes. And they weren't the only ones: many people working in adult entertainment or sex-related businesses, including porn performers and sex-toy sellers, were also affected.
The DOJ still insists that Operation Choke Point "was designed to combat fraud, not to affect the relationship between any lawful business and its bank." But even if regulators' intent was pure, in practice the program has impacted far more folks than just fraudsters. A former Choke Point chief-architect even admitted as much last week. Michael J. Bresnick, who served executive director of the Obama administration's Financial Fraud Enforcement Task Force (under which Operation Choke Point was created), said the program had "unintended but collateral consequences" for consumers. Worried about targeting by Choke Point's enforcers, financial institutions have "raised their hands in frustration and simply avoided lines of business typically associated with higher risk."