Charges Dropped Against Trump Campaign Manager, Microsoft Sues over Surveillance Gag Orders, Quake Hits Japan: P.M. Links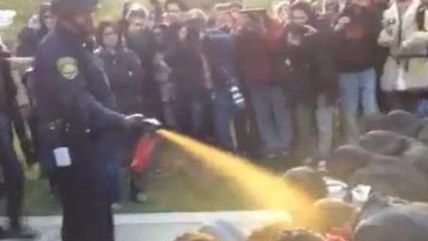 Video screenshot via YouTube

Charges have been dropped against Donald Trump's campaign manager, Corey Lewandowski, over the filmed incident of him grabbing a former Breitbart reporter's arm and yanking her away from Trump when she was trying to ask him a question at a rally. Prosecutors said there was insufficient evidence to support prosecution.

Hey, remember the time that police officer at the University of California, Davis, walked down of peaceful protesters and just brutally pepper sprayed them all in their faces? UC Davis wanted to facilitate people forgetting about all that and paid at least $175,000 trying to reduce its prominence on the Internet by hiring a firm to churn out more positive coverage that would show up in searches. Well obviously it just backfired terribly. Now they'll have to hire a firm to churn out stories to try to bury the stories about how the college hired a firm to churn out stories to bury the stories about the pepper-spraying incident.
Microsoft is suing the government over the right to tell its customers when a federal agency is looking over their emails, calling gag orders a violation of their free speech.
Massachusetts Gov. Charlie Baker, a pro-gay Republican, was booed at an LGBT event because he wouldn't declare upon demand whether he'd support proposed legislation to add gender identity to public accommodation guidelines.
At least two have been killed and more than 40 injured in a 6.5-magnitude earthquake that struck Japan overnight.
A judge has denied a request by a gun manufacturer to toss out a lawsuit against it by the families of victims of the Sandy Hook Shootings.
Follow us on Facebook and Twitter, and don't forget to sign up for Reason's daily updates for more content.