California Teachers Union Wins Appeal Over Often Student-Harming Job Protection Policies
Vergara victory overturned, more or less on grounds that crummy teaching probably harms most California students equally.
A couple of years back, Caifornia student-interest group Students Matter won a powerful victory in California Superior Court that would have rolled back various job protections and perks enjoyed by teachers that the group successfully argued caused grievous harm to California students.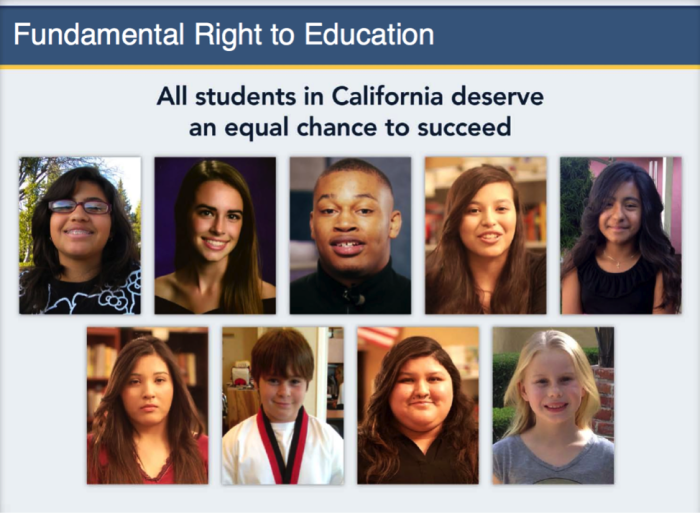 The L.A. Times reports the bad news today about the lower court victory for students in Vergara v. California being overturned on appeal.
In lower court, as I reported at the time:
Judge Rolf M. Treu reasoned that the challenged teacher rules—regarding permanent employment status, dismissal procedures, and a "last in first out" rule for layoffs—do indeed damage California children's constitutional right (on the state level) to an education. He wrote that the challenged statutes "cause the potential and/or unreasonable exposure of grossly ineffective teachers to all California students" and "to minority and/or low income students in particular, in violation of the equal protection clause of the California constitution."

"Evidence has been elicited in this trial," the Judge writes, "of the specific effect of grossly ineffective teachers on students. The evidence is compelling. Indeed, it shocks the conscience." He was convinced by expert testimony that bad teachers can cause over a million in lifetime earning losses for students, and cost them 9 months of learning per year compared to students with even average teachers. He estimate 2,750 to 8,250 inferior teachers active in California now.

"Plaintiffs have proven, by a preponderance of the evidence, that that Challenged Statutes impose a real and appreciable impact on students' fundamental right to equality of education and that they impose a disproportionate burden on poor and minority students."
California Teachers Assn. President Eric C. Heins said of Thursday's ruling to the Times that "The trial never made the connection between the harms they were alleging and the statutes they were challenging."
Today's reversal from California's 2nd Circuit Court of Appeals.
The core of the new decision, which seems to this non-lawyer (and non teacher, and non student) to be saying that if the crummy policies are as near as we can tell causing equal harm to all California students rather than special harm to an identifiable group, then the Court feels powerless to overturn them:
Plaintiffs failed to establish that the challenged statutes violate equal protection, primarily because they did not show that the statutes inevitably cause a certain group of students to receive an education inferior to the education received by other students.

Although the statutes may lead to the hiring and retention of more ineffective teachers than a hypothetical alternative system would, the statutes do not address the assignment of teachers; instead, administrators—not the statutes—ultimately determine where teachers within a district are assigned to teach. Critically, plaintiffs failed to show that the statutes themselves make any certain group of students more likely to be taught by ineffective teachers than any other group of students. With no proper showing of a constitutional violation, the court is without power to strike down the challenged statutes…..

our review is limited to the particular constitutional challenge that plaintiffs decided to bring. Plaintiffs brought a facial equal protection challenge, meaning they challenged the statutes themselves, not how the statutes are implemented in particular school districts. Since plaintiffs did not demonstrate that the statutes violate equal protection on their face, the judgment cannot be affirmed.
My reporting from last year on the start of the Vergara appeals process.
Students Matter history of the case. The group announced in an emailed press release that the nine student plaintiffs will appeal to the California Supreme Court.
Reason TV on the Vergara case in happier times: