School Cop Slams 12-Year-Old Texas Girl Onto Concrete Walkway
You can trace today's police-on-student violence to post-Columbine overreactions.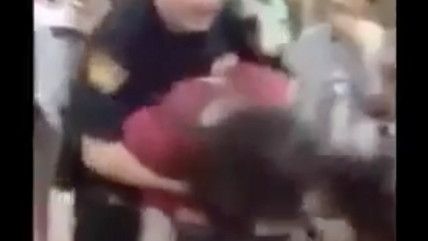 Janissa Valdez, 12, a sixth-grader at Rhodes Middle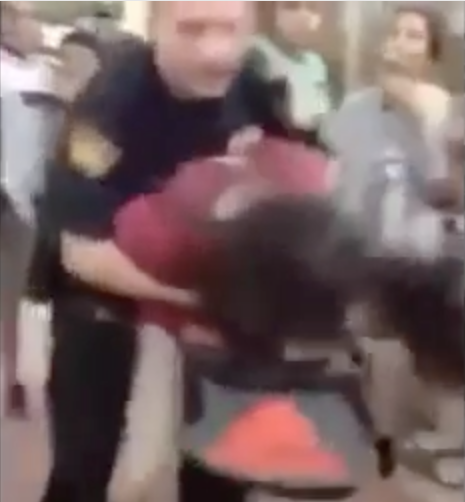 School in San Antonio (Tx.), was viciously body-slammed to the ground by school police officer Joshua Kehm last week.
Kehm, who has since been placed on paid leave, was trying to restrain Valdez as she approached another girl while a crowd of students gathered around in anticipation of a fight. But Valdez told ABC affiliate KSAT that she didn't want to fight, only to talk to the other girl and ask her to go somewhere else to talk out the conflict.
That's when Valdez says the officer grabbed her from behind, swung her around, and planted her head-first onto a concrete walkway.
Video of the incident emerged yesterday (see below), and there's really no other way to describe it other than as a disturbingly disproportionate use of force against a young child.
Valdez' mother, Gloria, told NBC affiliate WOAI:
She wasn't moving. She was just knocked out. I wanted answers and nobody could give me answers. I contacted the vice-principal. I talked to the officer. He did what he had to do at the moment—those were his words.
In separate comments to KSAT, she said:
You could actually hear her head hit the concrete. That's what hurt me the most…he didn't even seem like it bothered him. He still handcuffed her after she was unconscious.
The Washington Post quoted Judith Browne Dianis of the Advancement Project, "a next generation, multi-racial civil rights organization," who said in a statement that the incident at Rhodes Middles School "demonstrates the urgent need to take action to remove police officers from our schools," adding, "It is unconscionable for a 12-year-old student involved in a verbal altercation to be brutalized and dehumanized in this manner."
Police officers are not trained youth mediators or teachers, and this is not the first time a cop has treated an unarmed if not entirely cooperative student with extreme violence. Last year, a South Carolina school resource officer threw a disobedient female student out of her desk and dragged her across the floor (he was fired), and a Kentucky school cop took a 50-pound 8-year-old-boy's arms and handcuffed them behind his back by the biceps.
In post-Columbine America, police officers have been increasingly assigned to patrol schools, but as Sheila A. Bedi wrote in US News and World Report, "well-intentioned" policymakers created a "overly punitive and police-centric response to high profile school shootings" that led to "countless schoolchildren…targeted by school-based police officers and subjected to police brutality in their public school."
Bedi lists some life-altering offenses that led to certain children's arrest, including "excessive flatulence or wearing the wrong color uniform." She adds:
But if you have doubts, ask the six-year-old child who was handcuffed to a chair as punishment after he got into a scuffle with another boy in the school cafeteria. If he doesn't convince you, perhaps the scores of schoolchildren who police assaulted with pepper spray (while at school) will. Or talk to one of the 3.3 million public schoolchildren who are suspended from school each year, often as a consequence for minor rule breaking, such as talking back to teachers or fistfights.
As Michael Tracey put it in a 2011 article for Reason, "Dead Kids Make Bad Laws," and with this latest incident out of Texas, one can trace how the reaction to a paradigm-shifting crime in Colorado led to the brutalization of a young girl born years after that tragedy.