Donald Trump, Mystified by Pen, Responds to Reporter Michelle Fields
After his campaign manager was charged for grabbing Fields, Trump taunted the reporter on Twitter, asking "Can I press charges?" against her.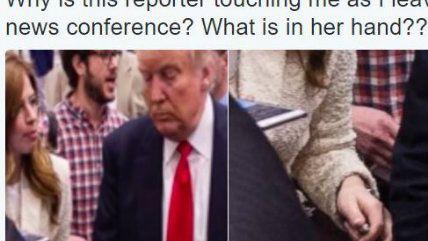 (@realdonaldtrump/Twitter)
Update: In a late afternoon interview with journalists, Donald Trump suggested that bruises reporter Michelle Fields had shown in a Twitter photo and attributed to his campaign manager Corey Lewandowski may have already been there. "How did they get there?" Trump asked. "Who put them there? I don't know that [Lewandowski] put them there" Trump also suggested that if Fields had been squeezed hard enough to bruise, she would have screamed.
.@realDonaldTrump questions reporter's bruises following incident with campaign manager: https://t.co/QJrVg65DNF https://t.co/ISjTQ6i3dN

— ABC News Politics (@ABCPolitics) March 29, 2016
Trump also told reporters that "Cory's a fine person" and proposed that perhaps it's Fields who was in the wrong. "I looked at the tape and… she was actually—if you look at her, and according to a lot of people—she's grabbing at me," Trump said. "And [Lewandowski] is acting as an intermediary and trying to block her from doing that."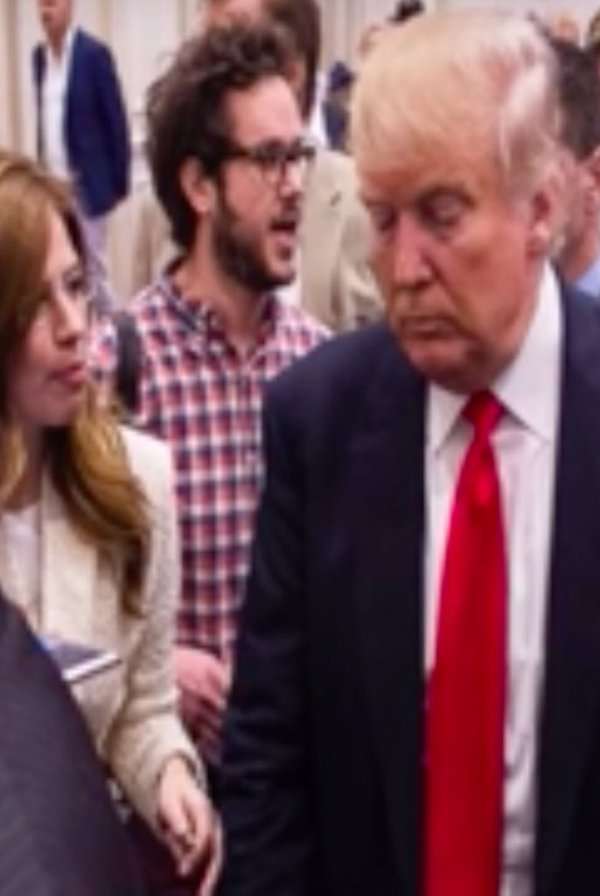 (4:17 p.m.) Now that Donald Trump's campaign manager, Corey Lewandowski, has been charged with battery for an incident at a Florida event, one might expect the Republican presidential frontrunner to tone down his taunting toward reporter Michelle Fields, who filed the complaint against Lewandowski. At least, that's how a normal presidential hopeful would respond. Trump being Trump, however, he's taken to Twitter to stick up for Lewandowski and attempt to discredit Fields.
"Wow, Corey Lewandowski, my campaign manager and a very decent man, was just charged with assaulting a reporter. Look at tapes-nothing there!" Trump tweeted soon after the charges against Lewandowski were announced.
This was soon followed by Trump wondering "Why aren't people looking at this reporters earliest statement as to what happened, that is before she found out the episode was on tape?" Fields responded with a single tweet:
Because my story never changed. Seriously, just stop lying. https://t.co/1fz9cBHOuT

— Michelle Fields (@MichelleFields) March 29, 2016
Later Tuesday afternoon, Trump kept it up, mockingly suggesting that he should press charges against Fields and—because no news story this election cycle would be complete without a hands angle—inquiring skeptically about what she was holding at the news conference (it's pretty obviously a pen)
Why is this reporter touching me as I leave news conference? What is in her hand?? pic.twitter.com/HQB8dl0fhn

— Donald J. Trump (@realDonaldTrump) March 29, 2016
This was the reporters statement- when she found out there was tape from my facility, she changed her tune. pic.twitter.com/N5815RS1At

— Donald J. Trump (@realDonaldTrump) March 29, 2016
Victory press conference was over.
Why is she allowed to grab me and shout questions? Can I press charges? pic.twitter.com/qbW2RjkINX

— Donald J. Trump (@realDonaldTrump) March 29, 2016
As Scott Shackford reported here earlier, police released security video from the night in question that shows Lewandowski grabbing and Fields and pulling her away from Trump as she's attempting to ask the exiting candidate a question. Lewandowski was charged with simple battery and turned himself in to police this morning. A statement from the Trump campaign says Lewandowski is "absolutely innocent" and will plead not guilty.