A Very Trumpish Day, Scalia's Death Leads to SCOTUS Deadlock, Obama Lectures Journalists: P.M. Links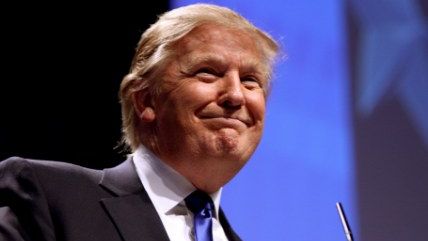 (Gage Skidmore / photo on flickr)
Credit: Gage Skidmore / photo on flickr

All sorts of things happened today and then Trump's circus took over when his campaign manager was charged with battery against reporter Michelle Fields. We are blaming that for today's late links, because … well, because.

Justice Antonin Scalia's death resulted in a deadlocked Supreme Court vote over whether public employee unions can force people to pay mandatory dues even if they don't want to be in the union. The result is that the previous court ruling holds, and that ruling affirmed the unions' power to force dues.
A teen boy who pleaded for an end to violence in Chicago has been shot. He's in critical condition.
Families of U.S. military and diplomats in southern Turkey have been ordered to leave the country.
President Barack Obama presumed to tell journalists to "dig deeper" for news stories, which is absolutely hilarious for any reporter who has tried to get information from his close-mouthed, antitransparent administration that prosecutes whistleblowers.
Google wants to bring landlines back.
Follow us on Facebook and Twitter, and don't forget to sign up for Reason's daily updates for more content.