Maine Food Rules Handcuff Amish Sausage Maker
Meddling and oppressive safety regulations threaten shop's survival.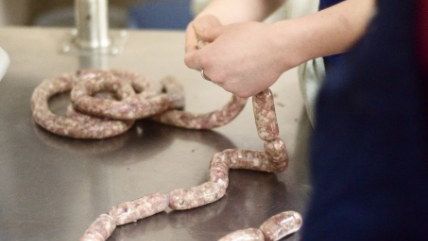 (jonny.hunter / photo on flickr)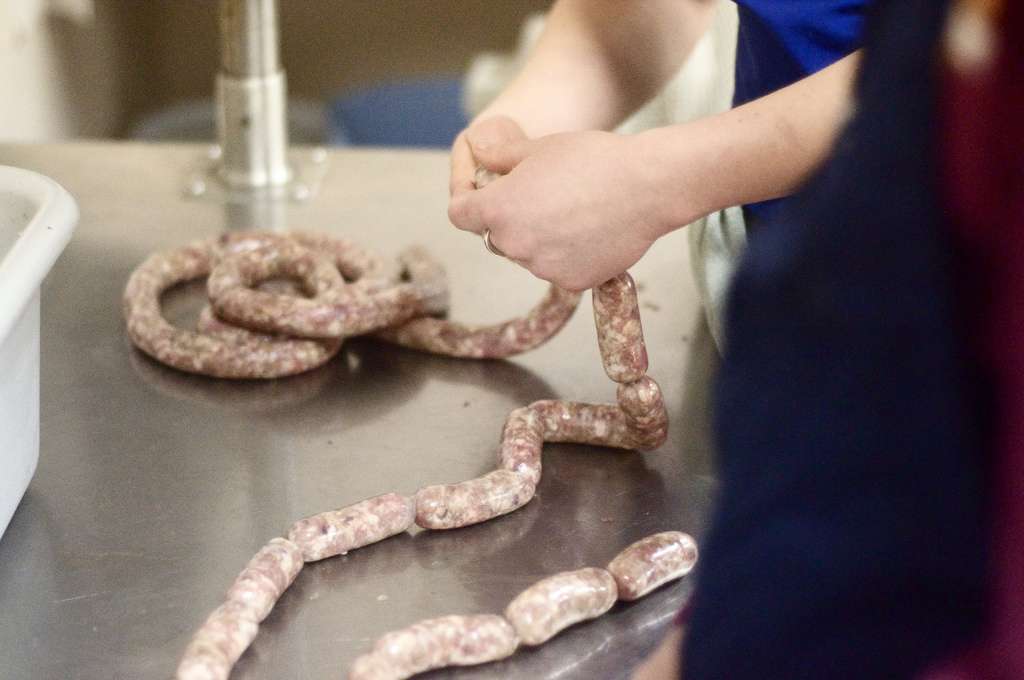 Sausages and laws are the two things people never want to see being made, the saying goes.
Renowned chef Matthew Secich loves to make sausages. But for Secich, whose Unity, Maine-based shop has been endangered by state food regulations, the problem isn't in the making of laws, it's in how they're being enforced.
Secich, a restaurant veteran, recently moved to Maine. Not too long after arriving, he converted to the Amish faith and opened a small shop, Charcuterie. As the name suggests, Charcuterie sells handmade meats, along with cheeses. As his faith suggests, Secich produces those meats and cheeses using no electricity or other modern tools or methods that are typically shunned by the Amish.
Photos show the store is lit by oil lamp, its slicer powered by hand.
In January, NPR captured the growing excitement around Charcuterie. As it and other new outlets have noted, Secich's latest venture is in line with—but still quite a departure from—his previous culinary pursuits.
He's a veteran of some of the best restaurants in the country. Secich worked as a sous chef in the kitchen at Charlie Trotter's, the celebrated Chicago outpost founded and led by the late eponymous chef. He's also worked in the kitchen at other top restaurants, including the Inn at Little Washington.
Secich left those bustling kitchens behind for a deliberately slower lifestyle.
"From once upon a time being a four-star chef, to playing with meat in the backwoods, that was all God's plan," Secich told the Bangor Daily News in January. "I feel so blessed to be here."
But that was before Maine regulators descended on Charcuterie.
In March, they informed Secich that his operation wasn't in compliance with the state's food code.
The two key issues they cited were Secich's use of a custom icehouse to chill his food and his lack of a written hazard analysis plan, commonly known as a HACCP plan.
Both issues are frustrating.
"You have to keep meats at a required 41-degree-Fahrenheit temperature, which is relatively easy to obtain using modern technology, but with an ice house, it could present some challenges," says John Bott, a spokesman for the Maine Department of Agriculture, Conservation, and Forestry, in comments to Maine Public Radio.
No. Charcuterie's icehouse either is chilling food properly or it's not. And there's been no suggestion by Bott or other state officials that it's not. That makes sense, since—as I discuss at length in my forthcoming book, Biting the Hands that Feed Us—ice can cool food at least as well as does mechanical refrigeration.
What's more, Secich wasn't told of the HACCP requirement when he opened last fall, it seems. But a working HACCP plan is still no guarantee that regulators will leave a sausage maker alone. I've previously described how even having a vigorous HACCP plan in place and passing all food-safety inspections wasn't enough to allow one celebrated Colorado sausage maker to continue operating.
Maine's rules also mean Secich's ready-to-eat sausages would be fine to sell if they had to be cooked before being eaten. They might also be fine to serve as is in restaurants in some states. That's because, in many cases, a chef in a restaurant making sausages to serve to customers is subject to different rules than would be that same chef who made sausages to sell at, say, a market.
Still, there's growing tension over that divide. Ten years ago, the New York Times noted the trend of chefs who make the sausages they serve in their restaurants, but pointed out that "modern notions of food safety and traditional methods of curing are an uncomfortable fit."
Indeed, the red tape that has stuck to Secich may be part of a larger struggle over sausage making in far-flung states like Colorado, New York, and right in Maine. Last spring, the Portland Press Herald detailed that health inspectors had taken to seizing cured meats from restaurants in the state.
"In recent months, hundreds of pounds of meat have been embargoed by health officials and are waiting in cold storage until restaurants can prove the food is safe," the paper reported. "Several restaurants have been ordered to stop vacuum-sealing their meats, cooking sous vide dishes and offering some types of house-cured meats until they develop special hazard plans and in some cases get formal variances from the Maine Food Code."
Faced with similar circumstances, a frustrated Secich has considered quitting the business.
"We're thinking about closing because it's just too much," he told the Bangor Daily News early this month. "We want to stay open. But we're so overwhelmed at the vast amount of paperwork… it's so immense, I can't keep up with it."
Late last week, though, the state appears to have backed down from pushing Charcuterie over the precipice. A new set of inspectors visited Secich and, he says, pledged to work with him to find a way forward.
"Based on feedback from our inspectors and Mr. Secich, we are confident that everyone's interests will ultimately be served," said Bott, the agriculture department spokesman. "I think our relationship with Mr. Secich is now more indicative of the type of work our professionals do every day to assist in growing Maine agriculture and supporting the efforts of farmers and producers to provide wholesome, safe, local food."
If that's the case—if Maine food-safety regulators have indeed started to adopt an approach that "is now more indicative" of one that embraces both local food and food safety—then that's a welcome sign for Secich, the state's food businesses, and its eaters. Time will tell. And I'm sure I won't be alone in keeping an eye on Maine lawmaking and sausage making alike.