Ron Paul and Bernie Sanders: Separated at Birth?
Rolling Stone article on Sanders lists his high points as two things exactly matching big things Ron Paul fans loved about him.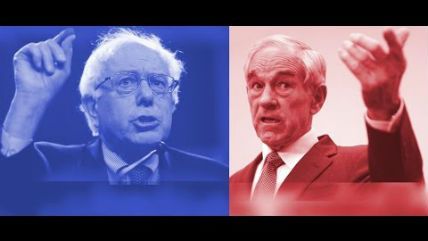 In its recent cover feature basically about how great both Bernie Sanders and Hillary Clinton would be as president, Mark Binelli at Rolling Stone gives a couple of details about why Bernie's fans find him so irresistably awesome.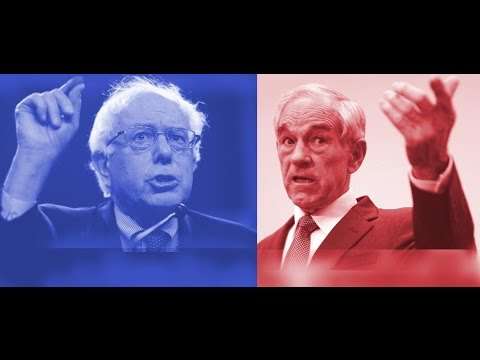 They might seem familiar to people who remember the long, long ago (it seems) "Ron Paul revolution" of 2008 and 2012, from vaguely rockin' rocker Ezra Koenig of Vampire Weekend:
This is the first time I've really been in the mix with a campaign," Vampire Weekend singer Ezra Koenig told me backstage. Koenig didn't use the word "authenticity," but he pointed, again and again, to the decades-long consistency of Sanders' message.

"Go back and watch his old speeches on YouTube," he said. "It's amazing. The one in '91 he gave during the Gulf War gave me chills. In retrospect, it's like he's unveiling a prophecy. Or when [during a congressional hearing] he yelled at Alan Greenspan – Ayn Rand's ex-boyfriend! It's 2003, the economy is quote-unquote 'good,' and Greenspan comes to Congress to brag, thinking it's going to be a softball. And Bernie just rips into him, five years before the collapse."
Not exactly Rand's "ex-boyfriend" there Mr. Koenig but I think I guess I get what you think you mean.
Now, Ron was not in Congress in 1991, so his prophetic speech much lauded by his fans was from 2002.
Here is the Christian Science Monitor assessing the high accuracy of Ron's dire predictions about foreign policy and domestic travails.
And of course Ron Paul also famously made an enemy of Alan Greenspan (for all the background on that read my 2009 Reason feature "Fed Up"), as many, many YouTube videos attest.
For more on the eerie links between the outsider libertarian presidential candidate and the outsider socialist presidential candidate, see from February "The Ron Paul/Bernie Sanders Connection."