On Trade, Sanders is More Dangerous and Trump More Illiterate
The duo represents America's worst protectionist spasm since Hoover.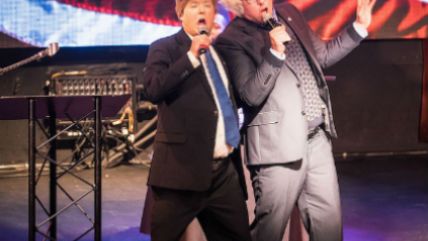 No election season is complete without a little — or a lot of — trade bashing. What's more, this bashing has always been a bipartisan sport. President Barack Obama, who is now begging Congress to pass the Trans-Pacific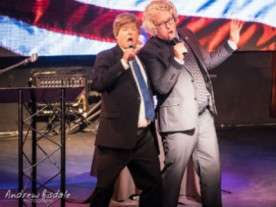 Partnership, did a lot of anti-NAFTA breast beating back when he was trying to out-sprint Hillary Clinton to the Oval Office. And beating up on China for currency manipulation was a Mitt Romney hobbyhorse when he was trying to dislodge Obama.
Still, even by the low standards of election-year politics, this season has set a new high (or is it a low?) on trade. The Democratic anti-trade standard bearer of course is Bernie Sanders and the Republican is Donald Trump. Although they are both dead wrong on trade, Sanders sounds professorial in his wrongness whereas Trump sounds like an illiterate. That's one reason why, I believe, Sanders might be more dangerous. The hoi polloi never get trade theory right anywhere. But if you seduce the elites into protectionism, then you're really, truly done for.
My friend and Reason contributor Steve Chapman has already done a splendid job of debunking Sanders' nonsense that Flint and Detroit have been decimated by NAFTA because this trade deal allowed American automakers to move to Mexico and pay slave wages to Mexican workers instead of remaining in Michigan and paying living wages to American workers. But the fact of the matter is that Flint and Detroit and the entire Rust Belt was in economic free fall long before NAFTA was a glimmer in the eyes of the ruling classes. And much of Michigan's traitorous auto industry hasn't moved to Mexico but to southern United States. Indeed, if there is a villain threatening American manufacturing jobs, it isn't NAFTA, it's automation, which has diminished the number of people required to produce each vehicle (heartlessly freeing up American workers to take up more soulful jobs).
Sanders is bad, undoubtedly, but Trump is a 200 pound, walking-talking economic fallacy. This is what he bellows in his stump speech:
What is the United States trade deficit with Mexico, Japan and China? Let's start with China. Almost $400 billion per year. If you have a company when you're losing $400 billion you've got to do something very fast. We don't. We've been losing hundreds of billions of dollars per year, frankly for decades. It's not going to happen any more.
It is unclear whether he really believes that a trade deficit is tantamount to "losing" money or whether he's just saying it because he thinks that's the level of comprehension of his audience. Either way, it is hard to pack so much stupidity in so few words.
For starters, a trade deficit only means that America — or rather, American companies and consumers — are buying more from China than selling to them. This means we are getting something from China for the money we give it, namely, goods and services that we presumably value more than pieces of paper. In any non-barter economy everyone has a running "trade" deficit with someone and "surplus" with someone. I routinely buy dresses (way more than should be legal, actually) from my dressmaker and sell her nothing at all, but that does not mean I am "losing" money. I get something in return. Maybe Trump is not worried about a trade deficit but a budget deficit. Maybe he thinks we are buying more goods from China than we can afford. But that's a wholly different issue. When I buy a dress, I can pay for it by: dipping into my savings; working a few hours extra; or taking a loan — none of which has anything to do with the dressmaker.
Trump also believes that if only China would stop devaluing its currency, America's trade deficit with it would disappear. As far as he is concerned, a cheaper yuan lowers the price of exports and increases the price of imports, resulting in job losses in America. Exports good, imports bad is an old mercantilist fallacy that Adam Smith debunked 200 years ago.
But there is no good evidence that a higher yuan necessarily means a lower trade deficit. Historically, the deficit has coincided with both a strong and weak yuan. Betweem 2005 and 2008, the yuan rose 21 percent and yet the trade deficit went up, not down.
One reason why a stronger yuan doesn't do much to hurt China's trade competitiveness is that while it increases the dollar price of Chinese goods, it also lowers the yuan price of foreign raw material, allowing Chinese manufacturers to keep a lid on the price of finished goods.
But don't expect Donald Trump to grok any of this. He has a story and he's sticking to it. Sanders may be more dangerous but Trump is arguably more willfully uneducable. Between the two of them, America may be experiencing its worst protectiionist spasm since Herbert Hoover. As they say, history always repeats itself, first as a tragedy, then as a farce. And if the working class are hurting now, wait till one of these two farcical candidates get their hands on the economy.