Just Say No to Nancy Reagan's 'Outspoken Intolerance'
The former first lady, who died this week, was wedded to repressive drug policies that hurt many innocent people.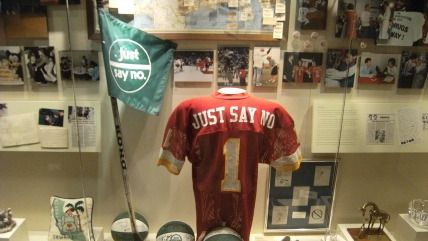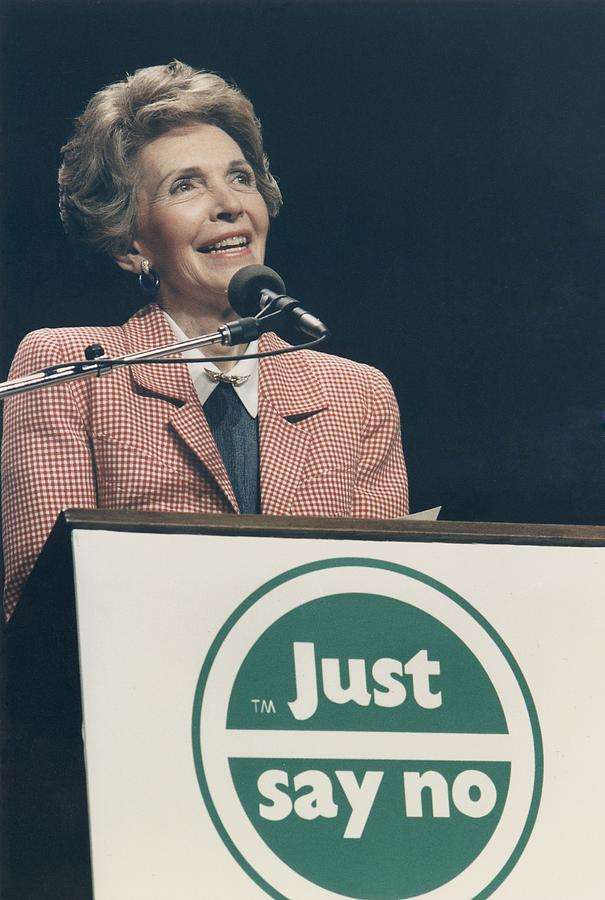 Nancy Reagan, who died this week, was strongly identified with the "Just Say No" movement, which even critics of the war on drugs tend to remember as more goofy than menacing. But as I show in my latest Forbes column, the former first lady demanded that everyone—not just schoolchildren—parrot her all-or-nothing, black-and-white approach to drugs, and her activism was inextricably tied to unabashedly repressive policies aimed at creating the "atmosphere of intolerance" she hoped would lead to a "drug-free society":
"If you asked anyone in America today what Nancy Reagan does," the first lady's former press secretary, Sheila Tate, told the Associated Press in 1986, "they'd say she was involved in fighting drugs. She owns that issue now….It's what she'll be remembered for."

Tate surely was right about that. Lady Bird Johnson had highway beautification, Laura Bush had literacy, and Michelle Obama has fitness. But probably no first lady in history has been as strongly identified with a cause as Nancy Reagan, who died on Sunday. In pursuit of "a drug-free society," she visited schools and treatment centers throughout the country, led thousands of schoolchildren in drug-free pledges, delivered dozens of speeches, gave more than 100 interviews, filmed PSAs with movie stars such as Clint Eastwood, co-hosted Good Morning America, and did cameo appearances on Diff'rent Strokes and Dynasty. She even sat on Mr. T's lap.

"If you even save one life," the first lady liked to say, "it's worth it." But there is no evidence that her crusade saved anyone's life, or even stopped people from using drugs. Although drug use, as measured by government-commissioned surveys, fell during the 1980s, that trend began years before Nancy Reagan launched her "Just Say No" campaign. As the drug policy historian David Musto observed in a 1986 interview with the Los Angeles Times, the first lady was "responding to a shift in attitude toward drugs in the U.S." that was already under way when Ronald Reagan took office. "There is little research to chart the effectiveness of marketing offensives like 'Life Abuse' and 'Just Say No,'" the Times reported in 1988. "But the consensus seems to be that they can't hurt."

Contrary to that consensus, Nancy Reagan's anti-drug activism was not just silly or ineffectual. It was fundamentally misguided, avowedly intolerant, and unabashedly repressive, promoting violence as a response to peaceful activities that violate no one's rights. It reinforced misconceptions about drug use that shaped public policy for decades, leading to millions of unjustified arrests and prison sentences. While I have no doubt that Reagan was genuinely moved by the plight of drug addicts and sincerely motivated by a desire to help children avoid that fate, the policies she supported have hurt a lot of innocent people. Whether she saved lives is doubtful, but she helped ruin many through her influence on her husband and the general public.