Indiana Prosecutor Bradley Cooper Is 'Proudly Over-Crowding our Prisons'
Cooper's new campaign flyer brags about the people he's put in prison for decades over drug sales and minor theft.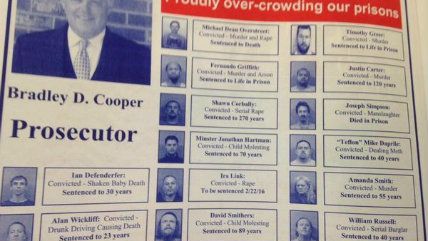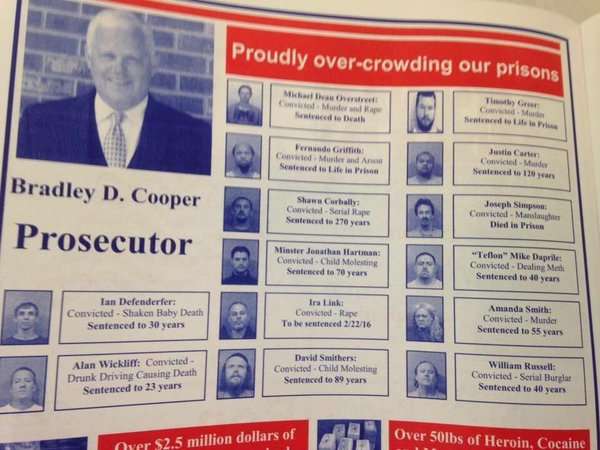 Backlash alert! As American conservatives and liberals alike embrace criminal justice reform, those opposed are blatantly bragging about their overcriminalization agendas. One particularly gross example: a new campaign mailer from Johnson County, Indiana, Prosecutor Bradley D. Cooper, which announces that he has been busy "proudly over-crowding our prisons."
The flyer also features mugshots from convicted criminals, along with what they were found guilty of and what prison sentence they were given. It includes a man who was sentenced to 40 years in prison for selling meth, a man convicted of manslaughter who died while in prison, and a man who received a 40-year sentence for burglary.
In the latter case, William A. Russell was arrested after breaking into someone's home and stealing $52. For that offense, he was sentenced to 20 years in prison. A trial court also determined that he was a "habitual offender," which qualified him for a sentencing enhancement of 20 years.
Another of the offenders featured is Amanda Smith, a schizophrenic woman who drowned her son in 2012 while he was on a court-ordered overnight visit from foster care; she claimed it was God's will and turned herself in immediately afterward. Smith's lawyers argued for her to be sent to a state mental hospital, but a judge sentenced her to 55 years in state prison instead.
Last year, Cooper made a fuss that a man accused of forcible rape was only eligible to receive 63 years behind bars, pursuant to a 2014 change to Indiana's criminal code. Previously, the man could have received a maximum sentence of 168 years in prison. Cooper called the sentencing-reform measure the "hug a thug" law and accused the state of coddling violent criminals.
In 2011, Cooper—who has been serving as Johnson County prosecutor since 1994—was accused of staking out a local detective's home in search of a woman he was pining over. Detective Ryan Bartlett reportedly found Cooper and another man parked in a van outside his home. According to the incident report Bartlett filed, Cooper was in the passenger's seat holding an open beer bottle when Bartlett approached and initially attempted to hide his face. The driver, who turned out to be a suspended police officer facing criminal charges, told Bartlett that he and the prosecutor were searching for a woman who worked at the Sherriff's office and whom they had believed was in Bartlett's house.
According to Johnson County Sheriff Doug Cox, Cooper—who is married—was thought to be having or attempting to have an affair with the (also-married) woman, whom he allegedly sent text messages and emails to from his work accounts and visited at home. Cooper reportedly said he was "messed up in the head over" the woman and "was having a really difficult time handling it." The incident was reported to the Indiana Supreme Court Disciplinary Commission but no action was taken.