Victory for Porn Industry in California Condom Vote
Yesterday was a win for adult entertainment, sure, but also for personal liberty and against an overreaching nanny state.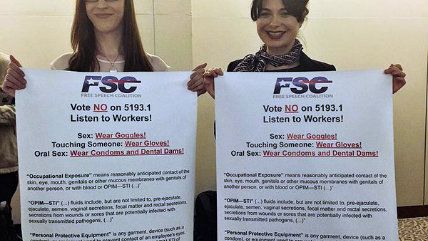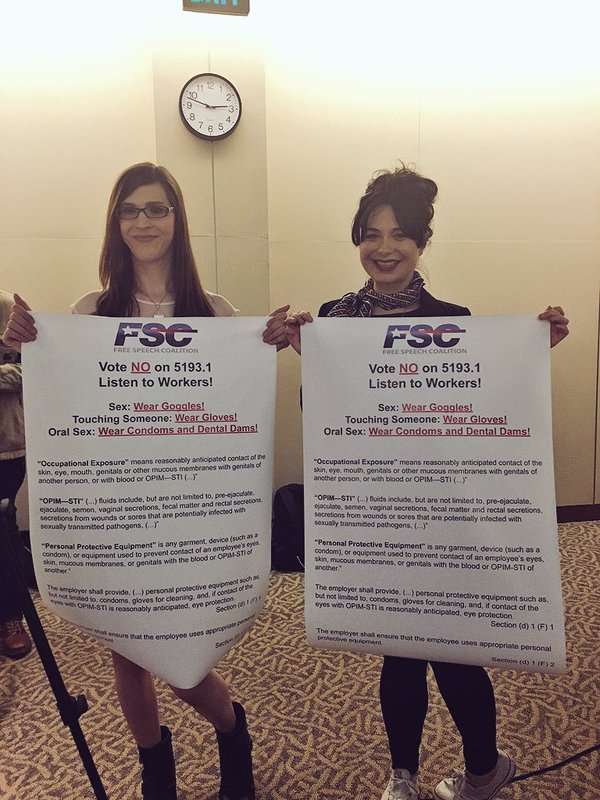 After hearing hours of passionate testimony Thursday from adult-film stars, webcam workers, public-health professors, and others, the California Division of Occupational Safety and Health (Cal/OSHA) voted against a proposal to require condoms and other "protective barrier" use in porn. It's a major victory not just for the adult-entertainment biz but also for personal liberty and against an overreaching nanny state.
The proposal, which I wrote about in detail yesterday, would have updated California's workplace safety standards to say that any "recorded or live representation" of sexual activity in which people might be exposed to "sexually transmitted pathogens" would require the use of "personal protective equipment" such as condoms, dental dams, and special eyewear—i.e., picture your favorite porn star in safety goggles the next time they're taking a load to the face. Porn performers and producers rightly complained that compliance would make their product unmarketable. And rather than abide by such measures, adult filmmakers would splinter off to other states and underground—where the robust, centralized system of testing for sexually-transmitted-infections among performers would no longer work.
In short, performers testified yesterday, the condom proposal—part of a coordinated anti-porn effort from activist Michael Weinstein and his Aids Healthcare Foundation (AHF)—wouldn't just cost California tons in lost revenue, it would cost them their community, their safety net, and possibly their livelihoods.
Speakers included porn-industry veterans and notables such as Jessica Drake, Joanna Angel, James Bartholet, Jiz Lee, Dee Severe, Abella Danger, and Julia Ann, along with dozens of others—around 100 in total.
After more than four hours of testimony before the Cal/OSHA Standards Board yesterday, the line of porn-industry folks waiting to speak out against the Weinstein proposal was still formidable. The mood among them, as evidenced by their Twitter commentary, was both proud and tense. On the one hand, how could board members refuse to listen to the reasoned, heartfelt, and intelligent testimony given all afternoon? How could they overlook the opposition of so many whose lives would be directly affected, as well as the people—a Centers for Disease Control and Prevention expert, a St. John's Infirmary representative, an epidemiology professor—who knew best and still said this proposal was the worst?
On the other hand, these were government officials we were talking about. And this was the porn industry. Rational actions from the former regarding the latter have historically been rare.
As testimony wound down, two Cal/OSHA board members said they would like more time to review and possibly revise the proposal. One, Dave Harrison, told the crowd he was "actually more torn over this than I can ever explain." Board member Robert Blink concurred: "I'm going through similar mental gyrations over this," he said. A motion to postpone the vote failed, however, and the five board members went ahead with the process. Four affirmative votes were required to pass the Weinstein proposal and add a new section to the California Health Code.
Only three board members voted yes.
Board member Patty Quinlan said the issue would be reconsidered in the future "with more input from the affected industry."
The room erupted in cheers as the news was announced, and social media in tiny victory speeches. "I can't believe it's real life but…WE WON!" wrote sex columnist and adult performer Siouxsie Q on Instagram. "Fucking. Awesome. A wonderful victory, thank you to all the people who spoke today," tweeted cam girl Alex Coal.
"Today was a monumental win, not only for the adult industry, but for the #sexworkersrights movement as a whole," tweeted porn trade group the Free Speech Coalition (FSC).
At a post-vote speech, FSC Executive Director Eric Paul Leue said he hopes his group can work closely with officials on the drafting of future porn-safety regulations. He also noted that a similar struggle was imminent: "The California Safer Sex in the Adult Film Industry Act," also sponsored by Weinstein and AHF, will put the issue of condoms in porn (along with a host of other intrusive, privacy-infringing, business-killing regulations) up for a statewide vote in November.
"Now we face a larger battle, which would seek to replicate and amplify the worst parts of the regulations," said Leue. "In fact, the ballot initiative, allows private citizens to sue adult performers who do not use condoms, and would drive a legal industry underground where performers would be less safe. This idea — that private citizens can sue adult performers because of actions they disapprove of is outrageous, and would not be permitted in any other sector of our society. We will fight this, and this too, we will win."
In a press release, Weinstein said AHF is "disappointed" by Cal/OSHA's decision and "are announcing today that we will immediately file a new petition with Cal/OSHA on this important health measure."