Los Angeles Sheriff Will Serve Jail Time for Lying to Investigators
Former Los Angeles Sheriff Lee Baca plead guilty for his roll in corruption scandal.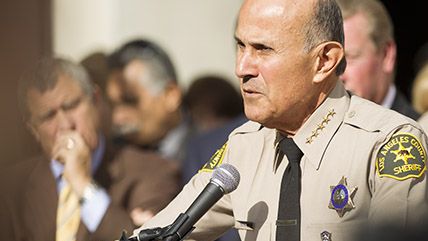 Former Los Angeles County Sheriff Lee Baca will serve up to six months in prison for lying to federal investigators who were investigating civil rights violations at the Los Angeles County Men's Jail. An FBI probe found that deputies abused inmates and even hid an informant who had been reporting abuses in the jail to the authorities (read the pleading document here). From the Los Angeles Times:
Last year, Baca's former top aide, Undersheriff Paul Tanaka, was indicted on charges of orchestrating an elaborate scheme to thwart the FBI, raising questions about whether Baca would be the next to face prosecution.

The grand jury indictment of Tanaka offered a portrait of a department adrift, with senior officials who were responsible for investigating abuses working instead to undermine internal safeguards and ignoring repeated warnings of widespread problems in the nation's largest jail system.
The investigation into the sheriff's department has been going on for five years and has resulted in more than a dozen former officials being convicted. Reason TV spoke with the American Civil Liberties Union back in 2013 after the feds announced they would be charging 18 officers involved in corruption in the largest jail system in the United States.