Uber: Sued By Many Everywhere, Defended by Its Customers in Austin, Texas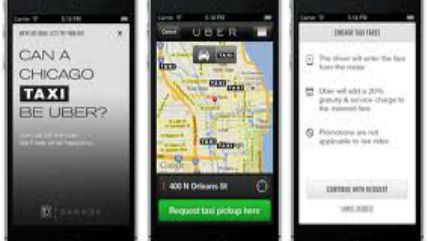 Uber gets sued a lot. A very useful summary piece from Kristen V. Brown at Fusion.net. Highlights:
50 lawsuits were filed against Uber in U.S. federal court….

Lyft, was sued less than a third as often. Airbnb, the second most highly valued start-up in the U.S., was sued just five times last year……

….of the 50 or so lawsuits currently pending against Uber in federal court right now, 17 were filed by Uber drivers, 15 by taxi and livery companies, and more than a dozen by customers alleging all manners of sin, including assault, illegal robocalling and deceptive pricing. There's also suits for trademark infringement, rejected insurance claims and disability discrimination…..

The most high-profile of Uber's legal lot is a class action challenging Uber's classification of drivers as independent contractors, as Uber claims they are, rather than employees….

The same type of legal threat has led to serious changes at other on-demand start-ups. Last year, the housecleaning start-up Homejoy claimed that a similar lawsuit was the reason it shut down. And the threat of being sued inspired Instacart to offer some of its contractor workers the option of becoming employees.

….Even Facebook, when it was Uber's age and had surpassed 350 million users, had not faced anywhere near as much legal opposition….

Taking a peek at the size of Uber's mounting legal arsenal speaks to just how seriously Uber is taking the threat: at present, Uber has 27 job openings for attorneys worldwide. On LinkedIn, more than 50 people in the U.S. list in-house counsel at Uber as a current job….

If Uber is building up a legal army, it is because this is an existential war.
Indeed. I wrote last month about the hypocrisy of proggy media acting as if it's Uber's fault it needs to get more political as it is attacked in political and legal arenas.
Beleaguered as it is by suits, Uber has a good friend in its users, as see this story by Neal Pollack out of Austin, via Yahoo! After Austin tried to insist on mandatory fingerprinted background checks for all ride-hail app drivers, the citizens revolted:
This week, a nonprofit group called Ridesharing Works For Austin, an odd alliance among Uber, Lyft, unemployed musicians, and downtown bar owners formed just after the New Year, submitted a petition to the city clerk's office containing more than 65,000 signatures, demanding that the city council overturn the ordinance. They gathered those signatures in less than three weeks. Assuming that the petition passes muster—and it almost certainly will because the group triple-checked the rolls to ensure that at least 20,000 of those signatures were legitimate—the council will have to either adopt a new ordinance or put the issue up for a public election. No mayor in the history of Austin has ever received that many votes.
Why so much citizen action? Because, dammit, those services make people's lives better and more filled with possibility, for both drivers and riders, in a clear, vivid way. Once one has known their glories, the thought of seeming them restricted makes local busybody governance see highly objectionable.
But the city solons don't get it:
They still seem stunned by the outcry. As one council member said last week, "I am deeply disappointed in the perversion of the petition process essentially led by a billion-dollar company fighting fair safety regulations by disseminating false information to get signatures."

…. the companies aren't the only animating force, or even the major one, behind this initiative. They didn't have to activate their massive million-person online database. Instead, downtown bars and nightclubs circulated pages. Petitioners walked up and down Red River and 6th Street, garnering more support than any plebiscite in the city's history. If you want to get young people to sign something, all you have to say is "they're going to ban Uber." Only an attempt to ban ramen would make them more upset.

Once the signatures are confirmed, the city council and mayor have ten days to roll back the ordinance. If they don't, there will be a special election in May, which will cost the city nearly a million dollars….
Of course, even all users don't get the whole free market thing as Pollack winds up with:
Now if only we could vote down surge pricing.
Which would be tantamount to saying "I want there to be fewer drivers available during peak or emergency times." Baby steps, though, as these sorts of services show-not-tell the benefits of relatively unrestricted markets in services.