One-Stop Popcorn and Sex Toy Cart Runs Afoul of Indiana Police
The Evansville food cart is back in business but must stop selling sex toys alongside the popcorn and nachos.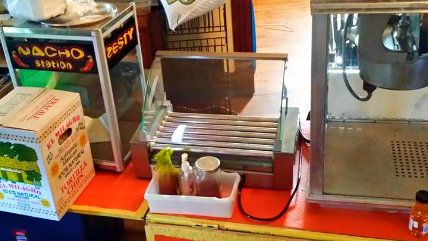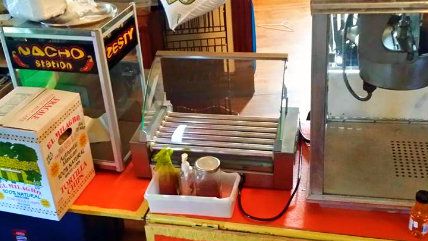 Say you're headed home from work, you're hungry, and also in the market for a vibrator. For residents of Evansville, Indiana, this previously presented no particular problem: just visit the one-stop popcorn, hotdog, and sex-toy cart downtown. But, alas, this shining beacon of 21st-century entrepreneurship is now but another victim of the nanny state. On Thursday, Evansville officials shut down Pop's Popcorn and Koosier Daddy's Food Cart, saying proprietor Kwan Dixon did not have the proper paperwork to be selling food and sex toys.
Dixon told Evansville news station WFIE that he decided to sell sex toys alongside his cart's standard fare because "sex sells. We all love it. We love it more than we actually show it."
"Is sex selling in Evansville?" Dixon continued. "Yeah!"
It's not all bad news for Dixon, however: his cart is back in business today, albeit sans brightly-colored array of vibrators.
"I'm legal. Here's the proof," Dixon wrote on Facebook Friday, posting a picture of his up-to-date vendor's permit. "Sorry for the sex toys… But don't bash me for that. We have liquor stores still around schools… We have crack pipes next to the fried chicken at the gas stores. [Where] is the NEWS on that. We still have ice on the ground and I have been paying taxes for 28 yrs. [Where] is the news on the city cleaning the streets."
"I'm trying to put a little buzz in your life and you go crazy," he added.
In another post Dixon slammed the local news for reporting, inaccurately, that one of the reasons for the shutdown was that his peddler's permit had been out of date. According to the photo Dixon displayed, he has a permit registered with the Evansville Police Department to "Sell products within the City of Evansville as provided under City Ordinance 5.20," issued January 15, 2015, and expiring on the 22nd of this month.
Dixon also indicated that he'll keep peddling the sex toys via non-food cart venues. In case you're interested: