Crime Fighting Robots are Already Here
Is the Knightscope K5 the future of security?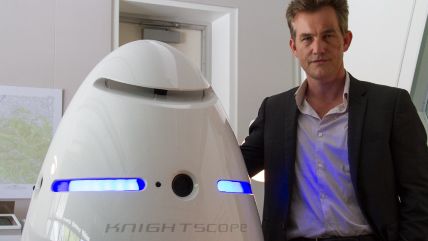 A Silicon Valley start-up is renting out security robots to help fight crime. From Inverse:
The autonomous patrol units weigh in at more than 300 pounds and are about five feet tall. Their control and movements are based on the same technology that power the new Google Self-Driving cars. The K5 gathers important real-time, on-site data through its numerous sensors, which is then processed through a predictive analytics engine. There it is combined with existing business, government, and crowdsourced social data sets to determine if there is a concern or threat in the area. If so, an issue is created with an appropriate alert level and a notification is sent to the community and authorities through the Knightscope Security Operations Center (KSOC), a browser based user interface.
Knightscope's website offers to rent out the disturbingly Dalek-looking machines for around $6.25 an hour, far less than minimum wage.
For more, check out Reason TV's "7 Creepy Robots for Cops":