Coaches Get Paid Millions. What About Players?
Alabama already has Clemson beat in one key stat: highest paid public employee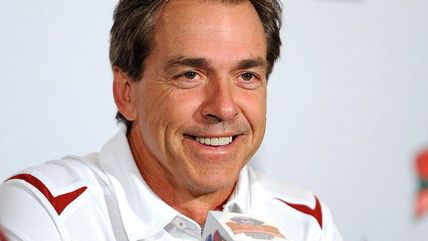 #1 ranked Clemson and #2 ranked Alabama play for the national championship Monday, but Alabama head coach Nick Saban already has one title to his name: at $7 million a year he's the highest paid public employee in the country. Clemson coach Dabo Swinny is doing fine as well, with a $3.3 million salary.
But don't even think about extending that same earning potential to the students who risk their bodies on the field. From Time Magazine:
While NCAA rules allow college athletes to trademark their names or slogans, they are prevented from collecting royalties until their playing days are over–precisely when those marks are likely to lose value. Swinney, meanwhile, trademarked his own name in 2009, after Clemson named him head coach and is also a vocal opponent of paying college athletes. "As far as playing players, professionalizing college athletics, that's where you lose me," Swinney has said. "I'll go do something else. Because there's enough entitlement in this world as it is." (emphasis added)
For more, check out How Much is a College Player Worth? from Reason TV: