Washington Post Calls for Reform of Maryland LEO Bill of Rights, a 'Shield for Police Misbehavior'
Legislative panel created after Freddie Gray death looking at potential reforms.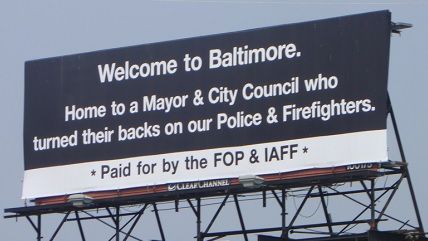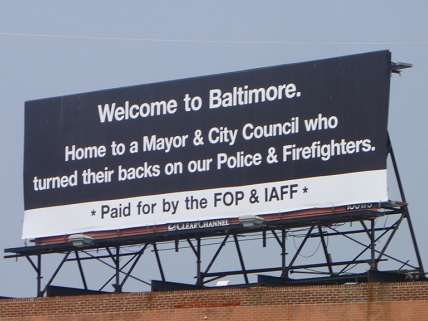 The editorial board of the Washington Post called for reforms of Maryland's Law Enforcement Officers' Bill of Rights (LEOBR), a set of laws that provide police officers broad protections when they are the targets of civilian complaints, internal investigations, or potential prosecutions.
Maryland's LEOBR was passed in the 1970s, and was the first of its kind. Since then, the laws have been replicated across the country, making it extremely difficult to fire bad cops. The laws have been adopted by other state legislatures, and the kinds of privileges they afford cops have been similarly enshrined in many police union contracts. Earlier this month, activists from Black Lives Matter launched a website to target the most egregious of such contracts.
The Post calls for a "sensible package of reforms" to LEOBR that:
would eliminate or drastically reduce the so-called cooling-off period, which grants officers 10 days of silence — plenty of time to get their story straight with other officers or forensics — before they must start cooperating with internal affairs investigators. There is no coherent rationale for such a privilege; one or two days, which is time enough to hire a lawyer, would suffice.

At a bare minimum, new rules should also allow members of the public at least a year, rather than the 90 days now set by law, to bring brutality complaints; require officers to undergo regular psychological evaluations, which makes sense for a job that can involve episodes of extreme stress; and establish rules under which officers accused of wrongdoing can be questioned not only by trial boards consisting of fellow officers but also by civilian review boards.
Earlier this year, the legislature formed a working group to recommend police reforms. Things likes regular psychiatric testing became controversial. The Post called on the working group's proposals to "entail genuine reform, not watered-down half-measures designed to pass muster with the police unions that have long held sway in Annapolis." There have been disputes over whether the panel has heard too much from police officers and not enough from critics.
The Post also notes the privileges of LEOBR have been extended to corrections officers, providing this unsurprising but nevertheless depressing detail:
A 2013 FBI affidavit cited a similar state law covering corrections officers as blocking management efforts to impose discipline and regain control when, at the Baltimore jail a few years earlier, more than a dozen guards helped a gang of inmates to take charge of the facility and traffic in drugs, cellphones and sex.
The legislative panel is only looking at the LEOBR, not the corrections law. Members of the Maryland legislature, of course, are free to submit their own reform laws and don't have to defer their responsibilities to a panel even if they chose to do so. The working group, expected to make recommendations next year, came in response to the death in police custody of Freddie Gray last April. Six cops were charged in relation to the incident—the first trial ended in a hung jury.