Rappers Killer Mike and T.I. Urge SCOTUS to Protect 1st Amendment Rights of Suspended High School Rapper
A high school senior was suspended for recording a rap song.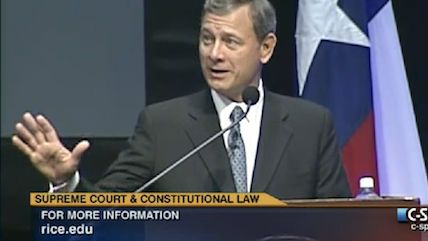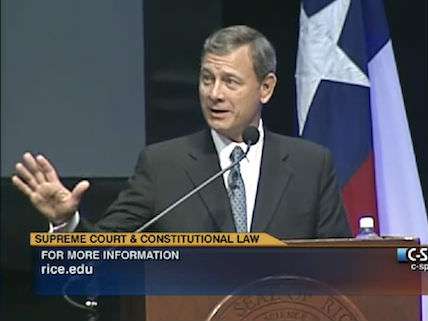 On December 1, 2014, the audience attending oral arguments at the U.S. Supreme Court got to enjoy a rare treat. Chief Justice John Roberts began reciting lyrics from the rap star Eminem. "Da-da make a nice bed for mommy at the bottom of the lake," Roberts said, quoting from the song "97' Bonnie & Clyde." "There goes mommy splashing in the water, no more fighting with dad."
Roberts' unusual performance came about in response to the case of Elonis v. United States. At issue was the prison sentence handed down to a self-described "aspiring rapper" who posted multiple violent revenge fantasies on Facebook, including accounts of him murdering his estranged wife and murdering his co-workers. In addition to those original compositions, Anthony Elonis also posted the Eminem lyrics later recited by the chief justice. In the end, the Supreme Court threw out Elonis' conviction.
Thankfully, it now appears as if the chief justice might get another opportunity to show off his rap skills. Yesterday a group of well-known rap artists, including Killer Mike, T.I., and Big Boi, joined an amicus brief urging the justices to hear the case of Taylor Bell v. Itawamba County School Board, an important First Amendment case out of Mississippi with rap music at its center. "The Government punished a young man for his art," the brief states, "and, more disturbing, for the musical genre by which he chose to express himself."
In 2011 Bell, then a high school senior, was suspended for "harassment, intimidation, or threatening other students and/or teachers" after he posted a rap song to Facebook and YouTube. The song irked school officials because it discussed the sexual misconduct charges leveled against two coaches by some of Bell's classmates.
To be sure, Bell's song does feature plenty of violent imagery and profane language—all standard stuff for this genre of music. And yes, some school officials got offended by the lyrical content. But so what? Bell wrote the song, recorded the song, and posted the song on his own time, entirely outside of school grounds. What's more, Bell never actually threatens anybody in the song, a fact that the school itself quietly conceded by never bothering to call the cops to investigate him. In effect, Taylor Bell was punished for exercising his First Amendment rights outside of school.
The Supreme Court should listen to Killer Mike and take the case.
Related: "Gov't Tried to Shut Down Rap in Straight Outta Compton, and They're Still Doing It"