Immigration has become not only a wedge issue between Republicans and Democrats in this election — it has also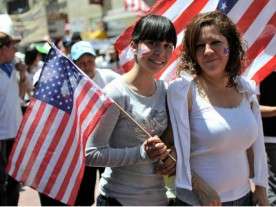 become a wedge issue between Republicans. Both Marco Rubio and Ted Cruz are on the path to mutually assured destruction with respect to the Hispanic vote — with each accusing the other of favoring amnesty more.
A big fracas broke out between the two during the Tuesday-night debate when Cruz, in an attempt to distinguish himself from Rubio's relatively less-hostile stance on immigration, declared that when it came to undocumented aliens: "I have never supported legalization, and I do not intend to support legalization."
Rubio immediately pounced on him noting that in fact Cruz had done just that. He pointed out that Cruz had objected to granting citizenship to illegals in the ill-fated Gang of Eight bill that Rubio had co-written. But he was A-OK with handing them green cards, an accusation that Cruz hotly denied.
But, as it turns out, Rubio was right and Cruz had to eat some delish crow on the Bret Baier show. Reports MSNBC:
The host played a clip of Cruz in the Senate saying he "want[ed] immigration reform to pass" and that if his colleagues sought reform that "allows those who are here illegally to come in out of the shadows," they should pass his amendment, in which case "the chances of this bill passing into law would increase dramatically." He went on to read several similar quotes from the time.

"It sounded like you wanted the bill to pass," Baier said.

"Of course I wanted the bill to pass – my amendment to pass," Cruz answered.

"You said the bill," Baier said.

Cruz laid out his explanation more carefully. The amendment, he said, did not show he wanted Rubio's "Gang of Eight" bill to pass, or that he endorsed legalization. Even hardline conservatives like Sen. Jeff Sessions of Alabama voted for his amendment. It was all a show, in Washington parlance a "poison pill," to help drag down the legislation by highlighting its citizenship component, which conservatives considered a ripe political target. Cruz has said in the past that the amendment also aimed to call Democrats' bluff: By opposing a path to legalization, Democrats would betray that they only cared about citizenship because it would increase the ranks of Democratic voters.

"Bret, you've been around Washington enough, you know how to defeat bad legislation," Cruz said.
In other words, Cruz wanted the bill to pass but he also wanted it defeated.
But politicians always prevaricate and lie, so who cares? Right?
The interesting thing, however, is that while Republicans are tripping over themselves to prove who is tougher on keeping Hispanics and other unsavory groups out, Democrats are doing the opposite. Indeed, even as we speak, Rubio, is trying to rehabilitate himself with the restrictionist right by plotting a grand stand against an $1.8 trillion spending bill that is already a done deal. Why? Because, apparently, he wants to make sure ISIS doctors don't get foreign worker visas and sneak into the United States.
By contrast, among Democrats, even Bernie Sanders, who not too long was channeling his inner Marie Le Penn and condemning corporations asking for more foreign workers to meet labor shortages by saying stuff like this….
"Bring in all kinds of people, work for $2 or $3 an hour, that would be great for them….Real immigration reform puts the needs of working people first — not wealthy globetrotting donors."
….is now demanding a "fair and humane immigration policy." He cooes: "America has always been a haven for the oppressed. We cannot and must not shirk the historic role of the United States as a protector of vulnerable people fleeing persecution."
Be that as it may, Republicans, it seems, are not only prepared to kick the Statue of Liberty in the teeth but their own 2016 election prospects.
Since Romney lost the 2012 election because Hispanics came out and voted against him in swing states, about 3.5 million more Hispanics have reached voting age. What's more, in 2012 more than half of the eligible Hispanic voters didn't vote.
This time, Republicans' even uglier restrictionist turn is giving them even more reason to take a break from hanging drywall and picking fruit* and make the schlep to the polls.
*This was meant to be a sarcastic dig at the stereotypes about Hispanics, not an attempt to validate them, folks.