Obama Rebuffs More War, Governors Rebuff Syrian Refugees, SCOTUS Rebuffs Abortion FOIA Case: P.M. Links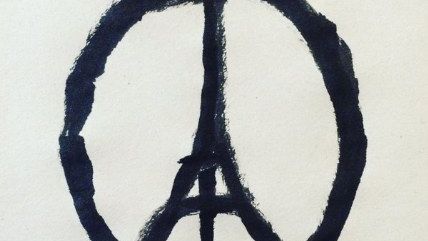 Credit: Jean Jullien

President Barack Obama held a news conference today rejecting calls for escalating the use of military to fight the Islamic State in the wake of the attacks on Paris, though he does plan to intensify airstrikes and assistance. He also rebuffed those who are trying to resist Syrian refugees from being brought into the United States.

Those who don't want Syrian refugees here in the U.S. include at least 13 governors—all Republicans, so far.
In France and Belgium, authorities have conducted more than 150 raids to track down anybody suspected of involvement in planning the Paris terrorist attacks.
Here's a list of inaccurate images and information passed around on social media as truth in the wake of the Paris attacks.
Education Management Corporation, which enrolls more than 100,000 students at for-profit colleges in 32 states, has agreed to a $95.5 million settlement with the feds over its high-pressure recruitment tactics.
The Supreme Court has declined to hear a case where anti-abortion activists were denied access to documents about Planned Parenthood receiving federal funds due to a "trade secrets" exemption in the Freedom of Information Act. Justices Antonin Scalia and Clarence Thomas dissented and wanted to consider the case.
New at Reason.com:
Follow us on Facebook and Twitter, and don't forget to sign up for Reason's daily updates for more content.