Trump Calls for Starbucks Boycott. For Xmas Sake!
In calling for a boycott of the popular coffee chain, The Donald Scrooges himself all over again.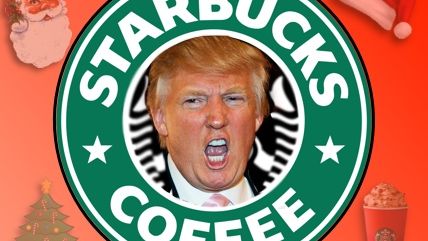 While addressing issues of critical importance to the American public, Republican presidential candidate Donald Trump called for a boycott of Starbucks. During a campaign rally in Springfield, Ill., Trump trolled the popular coffee chain for what he sees as insufficient recognition of the Christmas holidays.
"No more 'Merry Christmas' at Starbucks. No more," Trump said, noting that the coffee giant is among his tenants at Trump Tower in Manhattan. "Maybe we should boycott Starbucks. I don't know. Seriously. I don't care. By the way: That's the end of that lease. But who cares? Who cares? Who cares?"
Well said, The Donald. Especially that 'who cares?' part.
Despite Trump's fears of a world without Yule, Starbucks continues to sell Christmas gift cards, Christmas tree ornaments, and Christmas Blend coffee. Though it's unclear how he feels about the entry of Latin American and Indonesian beans inside our national borders.
This is not the first time the twice-divorced gambling tycoon who has considered dating his own daughter has expressed grave concern about the decline of religious values America. Last September, Trump declared war on the war on Christmas at the Values Voters Summit, to the rapturous applause of an audience of evangelicals.
But does he really mean it? As Reason TV recently discovered, in the war on Christmas, Donald Trump is only Scrooging himself. Watch Donald Trump Literally (& Hypocritically) Promises to Save Christmas to find out how.