Magistrate Snatches Newborn From Mother Who Used Cannabis Tea for Pain Relief
County social workers said separating the newborn from her parents would be harmful.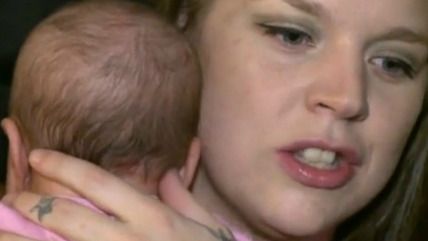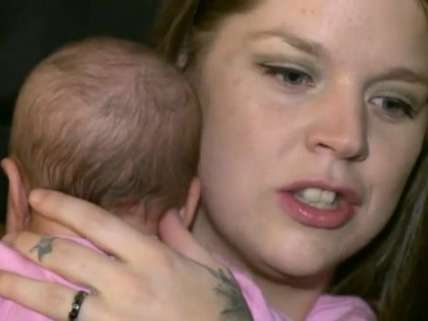 Before she gave birth to her daughter, Nova, at Cleveland's Fairview Hospital on September 26, Hollie Sanford used cannabis tea to relieve severe sciatic nerve pain. Her research convinced her marijuana was a safer choice than the painkillers she had been prescribed, and she may be right about that. While there's little evidence that consuming marijuana during pregancy harms the fetus, the Food and Drug Administration puts opioids such as hydrocodone and oxycodone in Category C, meaning "animal reproduction studies have shown an adverse effect on the fetus and there are no adequate and well-controlled studies in humans," although "potential benefits may warrant use of the drug in pregnant women despite potential risks." But Cuyahoga County Juvenile Court Magistrate Eleanore Hilow, who ordered Nova's separation from her parents because the baby and her mother tested positive for a marijuana metabolite at the hospital, does not seem interested in what science shows about cannabis and pregnancy.
The Cleveland Plain Dealer reports that Hilow rejected the recommendation of county social workers, who are usually the bad guys in cases like this. Cuyahoga County Children & Family Services (CFS) asked for "protective supervision," meaning a case worker would keep an eye on Sanford and her daughter to make sure the baby was in no danger. But the county said separating Nova from her parents would be harmful to the newborn. 
"There is no need to remove this child from her parents in order to protect her," an assistant county prosecutor wrote in an October 23 motion. "At this time, removal would only serve to disrupt the bond the child would develop with her parents during this important period in her life…Rather than protecting the child, removal may be more harmful to her both in the present and in the future."
Hilow was unmoved by that argument. Fortunately, Sanford's cousin agreed to take care of Nova to keep her from being placed with strangers in a foster home, and Sanford is allowed to visit Nova at her cousin's house. "It's outrageous," attorney Joseph Jacobs, who represents Sanford and her husband, Daniel, told The Plain Dealer. "The decision has no basis in law or science. There was no harm done to this child other than the removal from her mom and dad."
Jacobs told WJW, the Fox station in Cleveland, that the hospital should not even have performed the drug tests, since the baby was born "very healthy and alert," the Sanfords did not consent to testing, and they are not on public assistance or covered by Medicaid, programs that require drug screening. Nova's urine tested negative for marijuana, but her first stool tested positive.  
A CFS spokeswoman said Magistrate Hilow, who works under the supervision of Judge Thomas F. O'Malley, has made a habit of ignoring the agency's recommendations. "We are disappointed that this jurist regularly makes rulings disregarding the agency's professional opinion and the opinions of other professionals in the courtroom, include guardians ad litem and other child welfare experts," she said. "We will continue to work with this family, which is committed to reunification."
Sanford said she used marijuana to relieve morning sickness and other symptoms when she was pregnant with her son, Logan, who is almost 2. Like Nova, he tested positive for marijuana at birth, resulting in a call to CFS, but no one attempted to kidnap him. "I hope if marijuana is legalized people will open their eyes a little more," said Sanford, who is rooting for the marijuana initiative on Ohio's ballot today.
Update: In a follow-up story, The Plain Dealer reports that Hilow's unilateral decisions to remove children from their parents' custody are "often appealed and overturned." One case in which Hilow was overruled by an appeals court involved a father who was caught with marijuana at his home. The therapist treating the man's son nevertheless recommended that he live with his father. Hilow was so outraged by that testimony that she tried to replace the therapist. The appeals court "found that the boy should live with the father and that the therapist should continue to treat him."
[Thanks to CharlesWT for the tip.]