How Will We Help the Homeless Without Government, Which Just Sent Squads of Cops to Destroy "Microhouses" for Homeless on Government Property in Denver?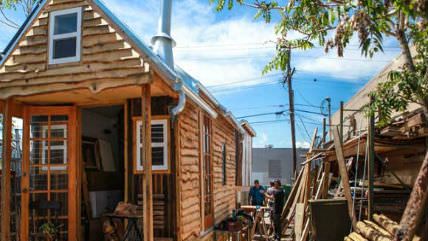 Denver Post reports calmly:
Denver Homeless Out Loud activists returned Sunday night to a Denver Housing Authority-owned community garden — a night after police broke up their settlement — saying they want to set it up again.

Denver Homeless Out Loud Facebook

But the modular "tiny houses" they used Saturday have been "stolen," they said.

About two dozen activists gathered in the moonlight Sunday at Sustainability Park, the DHA property at 25th and Lawrence streets…

Denver police arrested 10 activists Saturday night at Sustainability Park after they set up tiny houses for use by the houseless and refused police orders to disperse. Those arrested said Sunday that all but one had been released after posting $100 bond each.

The activists are angered by Denver Housing Authority plans to sell land used for a community garden. For the past five years, the land has been the home of the Urban Farmers Collaborative at Sustainability Park….

On Saturday, police gave several orders to disperse before making arrests, police spokesman Tyrone Campbell said. Police said they gave back structures that could be returned…
An account via the Denver Homeless Out Loud group has a different version of the cops behavior and purpose:
Up to 70 officers from the Denver Police and Sheriff's Departments converged on Sustainability Park….

Following orders issued by Mayor Michael Hancock, police officers — including SWAT units with helicopters overhead — stormed the park by 9 p.m. local time to remove the micro-buildings, named "Resurrection Village," due to lack of proper permits from the city. Ten were arrested in the process and charged with trespassing…Denver Public Works then took the remnants of the destroyed homes, threw them into dump trucks and drove them away.
Some Livestream of the raid and aftermath here.
Reason TV on the illegality of "tiny houses":