Cops and Prosecutors Want Fewer People in Prison
A new law enforcement group favors abolishing mandatory minimums, changing felonies to misdemeanors, and winnowing down petty offenses.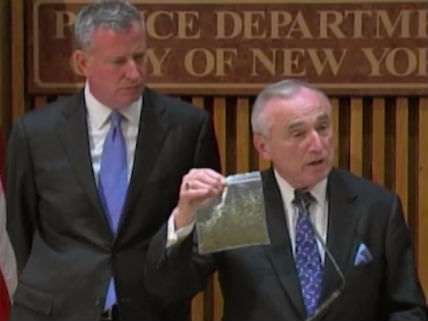 The New York Times reports that a new group of "more than 130 police chiefs, prosecutors and sheriffs" today will unveil recommendations aimed at reducing the size of the U.S. prison population. Law Enforcement Leaders to Reduce Crime and Incarceration (LELRCI), which includes big-city police chiefs such as New York's William Bratton, Chicago's Garry McCarthy, and L.A.'s Charlie Beck, believes "too many people are behind bars [who] don't belong there." The organization, which was assembled with help from the Brennan Center for Justice, opposes mandatory minimum sentences, wants legislators to decriminalize some petty offenses, and favors changing some nonviolent felonies to misdemeanors.
"We're talking about using a scarce resource—beds in jails and prisons—in the most effective way," LELCRI member Benjamin David, a North Carolina prosecutor, told the Times. "I would say to people, 'Who would you rather have in there—a bank robber or an addict who is aggressively panhandling downtown?' This is not a political issue; it is a moral issue."
Manhattan District Attorney Cyrus Vance Jr., a member of LELRCI's steering committee, said the group represents an emerging bipartisan consensus on criminal justice reform. "We are in the middle of a sea change focusing on who is in our prisons, why are they in there, and who is making the decisions," he told the Times. "At the end of the day, this is just common sense. This is nothing radical."
That's too bad. LELCRI does not sound nearly as bold as, say, Law Enforcement Against Prohibition (which also has a much better acronym). But the fact that abolishing mandatory minimums no longer counts as a radical idea is encouraging, and support for sentencing reform from prominent law enforcement officials should help counter resistance from organizations such as the National Association of Assistant U.S. Attorneys.
Addendum: Although the Times describes "ending mandatory minimum prison sentences" as one of LELCRI's goals, the organization's "Statement of Principles" only recommends "reforming mandatory minimum laws, especially for drug and nonviolent offenses." It calls upon Congress and state legislatures to "reduce mandatory minimum sentences set by law" and "also reduce maximum sentences."