5 Things to Watch For in Tonight's Democratic Presidential Debate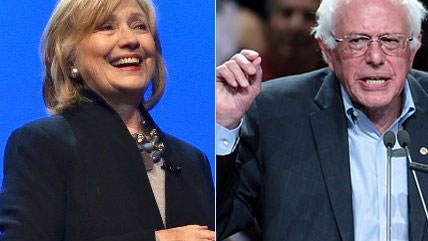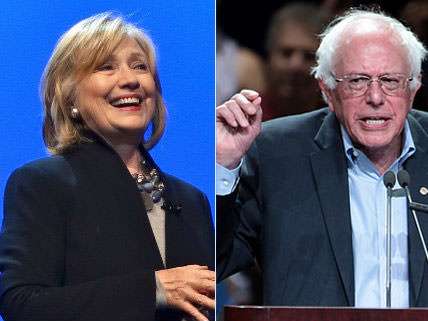 Tonight is the first Democratic presidential debate. Frontrunner Hillary Clinton will be joined by Bernie Sanders, the self-styled democratic socialist senator from Vermont who has been posting surprisingly strong poll numbers, as well as a trio of also-rans: Maryland Governor Martin O'Malley, novel-writing former Senator Jim Webb, and former senator and Rhode Island Governor Lincoln Chafee. The event will be held in Las Vegas, home of Donald Trump, who continues to lead the GOP field.
As with the GOP debates, the staff of Reason will be live-tweeting tonight's event here on the blog, so make sure to browse on over starting at 8:30 p.m. ET. In the meantime, here's a quick guide to what to look for and what to expect from tonight's Democratic candidate face off.
1. The main event will be Hillary Clinton versus Bernie Sanders. There will be five people on stage—but the main back and forth is between two: Bernie Sanders and Hillary Clinton. Clinton holds a commanding lead over the Democratic field, but Sanders has performed far above expectations all summer. While he probably doesn't represent a serious threat to her eventual nomination, the self-declared democratic socialist does suggest the level—and character—of internal dissent within the Democratic party. In general, Sanders has declined to go after Clinton with much force, instead simply saying that he respects her but disagrees with many of her positions. Clinton, on the other hand, has been somewhat more aggressive, suggesting that she sees Sanders as a kind of threat. Who attacks who, and along what lines, will be the main conflict to watch for tonight.
2. Will the candidates ever attack each other? Because the Democratic presidential field is smaller and less obviously fractious than the Republican field, it's likely that there will be fewer candidate-on-candidate squabbles at tonight's debate than we've seen at the GOP showdowns. And unlike in the Republican contests, the moderator may not push for much contentious interaction. In an interview this weekend, CNN's Anderson Cooper said he will focus on asking the individual candidates "pointed questions" more than on attempting to generate conflict. "I'm always uncomfortable with that notion of setting people up in order to kind of promote some sort of a face off," Cooper said Sunday.
3. What about Hillary Clinton's email? Hillary Clinton's exclusive, unusual use of a privately held email server during her tenure as Secretary of State has dogged her campaign for months now, and is probably at least partially responsible for her underperformance as the race has developed. The story is almost certain to come up in some capacity. For my money, the most important questions at this point aren't about her actions, but her responses, which have consistently been misleading and evasive.
4. How will the candidates deal with Barack Obama's legacy? The president won't be on the stage, but his presence will loom over the events anyway. He's been the defining figure in the Democratic party since 2008, and so it's inevitable that those vying for to be the next party's most prominent public face will have to grapple with his record. It'll be a delicate balancing act. As a report in The New York Times earlier this week suggested, it's likely that the candidates won't attack the president too directly—but will suggest that he's failed to create a strong enough economic recovery or do enough to mitigate inequality.
5. Will the also-rans make any impression at all? Martin O'Malley, Jim Webb, and Lincoln Chafee are essentially extras in tonight's production, with each garnering less than 1 percent in an average of polls. They'll all be looking for a breakout moment. But given their practically nonexistent support levels so far, it's hard to imagine any of them making waves. The trio of no-hopers are so distant from the two frontrunners that it's likely CNN will treat them differently—essentially holding the Democratic equivalent of the GOP undercard debate on the same stage, and at the same time, as the main event. Vice President Joe Biden, who has not announced he's running (and may well choose not to run) but is hovering at around 17 percent in the RealClearPolitics polling average, is the true supporting player—and he won't be on stage.