How Hillary Clinton's Private Email Setup Continues to Shield Her From Scrutiny
Federal judge says he has no FOIA authority over Clinton's private email system.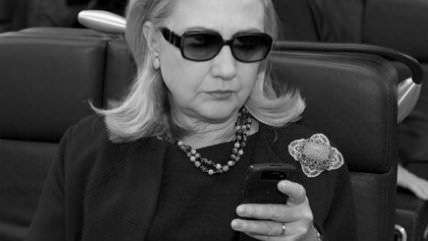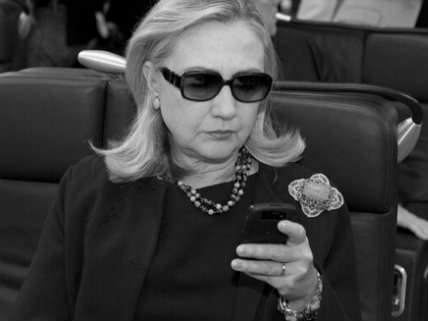 Hillary Clinton's defenders have argued that her exclusive use of a private email system while serving as Secretary of State was in no way intended to protect her correspondence from FOIA (Freedom of Information Act) requests—and indeed, couldn't.
In July, for example, journalist Kurt Eichenwald wrote in Newsweek that "Using a private account would not, in any way, shield Clinton's correspondence from congressional or FOIA requests," because anything a State Department "official writes as part of the job—whether by email, telegraph or handwritten on personal stationery—is subject to a FOIA request."
Tell that to the federal judge overseeing a court case about Clinton's emails.
District Judge Reggie Walton ruled yesterday that he could not force Clinton to search for and hand over copies of the roughly 31,000 messages on her personal email server that she did not turn over to the State Department for review and record-keeping, because they were not under the State Department's authority, The Hill reports:
The fact that Clinton used only her personal property in setting up the private email system — and not any devices issued by the State Department — means the issue is beyond the scope of the Freedom of Information Act (FOIA), Walton said.

"I just don't see what my authority under FOIA would be," he said during a hearing in the U.S. District Court for the District of Columbia.

"It seems to me, having not used State Department devices … it would be difficult … for me to conclude… that the information contained on her private server … is information that the State Department possessed."
Clinton's defenders might protest that the messages that weren't turned over were personal in nature. After all, in August, Clinton signed a document certifying that she had turned over all work-related emails. Shouldn't we trust her?
Probably not, given that the State Department confirmed last month that multiple work-related emails had been found that had not been turned over, despite Clinton's shockingly-not-entirely-true certification to the contrary.
Indeed, Clinton has repeatedly delivered excuses that quickly proved dubious, misleading, or totally false as the email story has developed, enough so that at this point, there's no reason to assume that she's telling the truth about this matter.
Anyway, this isn't the first time that Clinton's unusual private email setup has made her communications unavailable to FOIA requests. Back in 2013, a Gawker reporter asked the State Department for all of Clinton's correspondence with Sidney Blumenthal, a close Clinton-family confidante, but State responded there were no such records.
We now know that Clinton corresponded extensively with Blumenthal, a shady loyalist who was blocked from an official job with Clinton at State by the Obama administration. But the State Department couldn't provide any documents responsive to Gawker's original request because State didn't have any of Clinton's email. It was all in her private possession.
Whatever the intention behind Clinton's private email setup, the remarkably convenient practical effect is clear: She's been protected from scrutiny and investigation, and with the ruling yesterday, it now appears that she's managed to shield herself from at least some legally mandated transparency too.