Rand Paul: 3rd Quarter Fundraising $2.5 Million; Feuding with Cruz
Money raised less than half of Ron Paul's 3rd quarter 2007 cash. More signs of trouble for Paul campaign?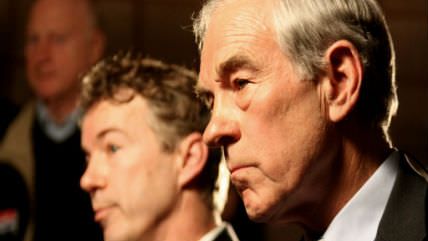 Rand Paul's third-quarter fund raising numbers are out: $2.5 million, a big drop from his second-quarter $7 million. Momentum is slowing, for sure.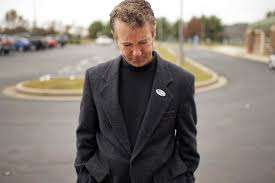 Some context as reported by David Weigel at the Washington Post:
[Paul's better second quarter] was slightly more than his father, former Texas Congressman Ron Paul, raised in the comparable period of his 2012 bid. But in the second quarter of that campaign, Ron Paul raised $8 million.
For even grimmer context, and remember that this is in fact better seen as Rand Paul's first run for president rather than Ron Paul's third, Ron's third quarter 2007 take was $5.8 million, a 114 percent increase over his second quarter take. Ron Paul first time around was a train gaining speed, Rand so far losing it.
Edward Crane, whose PurplePAC was planning to support Rand but has for now ceased raising or spending money for him, thinks insufficient libertarianism on Paul's part is to blame. As far as I know we have no polled data about specific reasons for "used to like Rand Paul, now I don't" so that's just speculative, and there is always a chance we hardcore libertarians are doing some self-vaunting in believing a more libertarian Paul will be a better polling Paul.
But doing something to stand out in a crowded field can't hurt. If Paul can just not drop out, the crowded field part will take care of itself by Iowa voting time next year. (And I do believe that if voters are paying attention, Paul has distinguished himself from the GOP pack on foreign policy and criminal justice.)
The Paul campaign is not saying out loud that anything is wrong to the Post:
"Not only are we in for the long haul but we've seen an uptick in crowds and support," said Paul's spokesman Sergio Gor. "Since the last debate we've raised $750,000."
Weigel reports the Paul campaign as having $2 million cash on hand. Matt Kibbe of Paul-supporting SuperPAC Concerned American Voters told me in an interview on a different topic this week that his operation has raised around $3 million, going to get out the vote efforts in Iowa.
Paul also has been getting attention for poking at perceived top rival for roughly libertarian-ish Republican primary voters, Texas Sen. Ted Cruz.
Some context on that mini-controversy from ABC News, which demonstrates that the two Tea Party-ish senators used to be pals and supporters of each other, but now that they are fighting for the presidential nod and Cruz is very explicitly grabbing for old Ron Paul supporters to endorse him, Rand got a bit fed up apparently:
"Ted has chosen to make this really personal and chosen to call people dishonest in leadership and call them names, which really goes against the decorum and also against the rules of the Senate, and as a consequence he can't get anything done legislatively. He is pretty much done for and stifled and it's really because of personal relationships, or lack of personal relationships, and it is a problem," Paul told Fox News Radio on Tuesday. "I approach things a little different. I am still just as hardcore in saying what we are doing. I just chose not to call people liars on the Senate floor and it's just a matter of different perspectives on how best to get to the end result."
Cruz continues to call Paul a friend and a good man, but:
"The attacks he directed at me are not terribly surprising particularly given that Rand campaigned for Mitch McConnell and then Mitch McConnell in turn has endorsed Rand for president," the Texas senator said. "But I have no intention of responding in kind to Rand's attacks."
Taylor Millard at Hot Air thinks the media is making too much of this, and that encouraging a Paul v. Cruz narrative is bad for the liberty Republican brand in general:
the media and the establishment would love to see their supporters start tearing at each others throats. It cuts at the "freedom and liberty" coalition Paul, Cruz, and Utah Senator Mike Lee have fought so hard to maintain. Paul supporters are already mocking Cruz and vice versa for some of the steps they've taken. One Cruz supporter accused Paul of just being an establishment hack because he's friends with McConnell, while a Paul supporter slammed Cruz for hiring Bob Barr to do outreach…It really puts the "freedom and liberty" coalition at risk when infighting takes it down. A splintered movement is what the establishment and the left want. Don't give in to it.

Both Cruz and Paul want a smaller federal government. Both Cruz and Paul have issues with Republican leadership. Their strategy is just different…Don't give in to the madness Paul and Cruz supporters! It's not worth getting into a fight with each other when both sides should be allies.
Perhaps, but they are both fighting for a constituency in the presidential race that only one of them can get. The situation will likely get worse until it gets better until they are both just liberty coalition senators again.