Delaware Police Shooting of Armed Man in Wheelchair Caught on Tape
Police in Wilmington were responding to a call about a man with a possibly self-inflicted gunshot wound.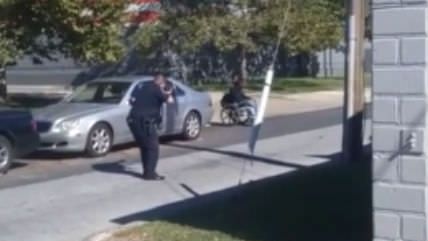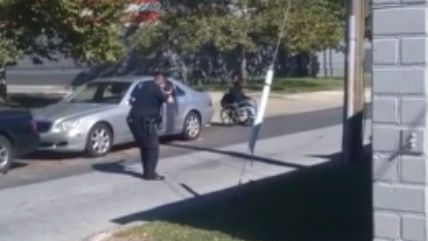 Police in Wilmington, Del., shot wheelchair-bound Jeremy McDole to death yesterday, saying he had a handgun on him when they killed him. Police say they were responding to a call about a man with a possible self-inflicted gunshot wound, but haven't yet released any more information. McDole's uncle says his nephew's death was an "execution." A portion of the incident was caught on cellphone video, which you can watch below:
The Delaware Department of Justice will be investigating the shooting, the standard procedure for police shootings that involve injuries or death. McDole became wheelchair bound after being shot a decade ago, and later spent time in prison, being released a year ago. He lived in a nursing home near the scene of the shooting.
Protesters in December called for an independent agency to review police shootings, saying prosecutors in the attorney general's office were too close to the police departments they were investigating. The attorney general's office described the process this way:
Tim Mullaney, chief of staff for Attorney General Beau Biden, defended the current system, saying it is far more than a cursory review. It is a full investigation, he said, with Department of Justice investigators who have arrest powers and who go to the scene of incidents and sit in on police interviews and create their own independent report.

The investigators are usually from the fraud division of the Attorney General's Office and generally don't have day-to-day interaction with police like employees in the criminal division, said Mullaney, a former U.S. Marshal and Dover Police officer.

Mullaney said if the use of force is justified, he writes up a short, usually two- to three-page public report explaining the finding. If the use of force is not justified, then the officer would be arrested and it would proceed through the criminal justice system like any other case.
An independent agency could be fairer than the attorney general's office, but a discussion about outcomes somewhere between clearing officers and charging them criminally in cases of fatal police shootings that are arrived at systematically would be useful in reducing the fatal use of force as well, by Polmaking it easier to remove problem cops from police forces without the burden of proof, and stakes, of criminal cases.