Bill Bennett: 'Bring Back the War on Drugs'
The former drug czar thinks the solution to the "heroin epidemic" is simple: "attack the supply."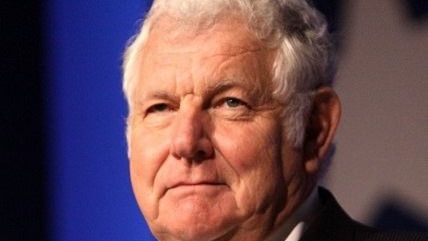 Two former drug czars, William J. Bennett and John P. Walters, want to "bring back the war on drugs," as the headline of their recent op-ed piece in The Boston Globe puts it. If you follow drug policy (and even if you don't), you may be puzzled by that recommendation, since neither the federal government nor the states have stopped using violence to suppress the production, distribution, and consumption of arbitrarily proscribed intoxicants. Even marijuana, although legalized by four states, is still a pretext for appalling invasions of privacy, draconian prison sentences, and the occasional senseless death.
Perhaps Bennett and Walters were fooled by their successor Gil Kerlikowske, who in 2011 announced that the Obama administration had "ended the war on drugs" two years earlier. Kerlikowske has since moved on to U.S. Customs and Border Protection (CBP), where his duties include waging the war he said was over. CBP brags that it seizes "10,327 pounds of drugs" on a typical day.
Evidently Bennett and Walters would like to see a bigger haul. They complain that President Obama, faced with "a heroin crisis," has not had the guts to "do what we did" with cocaine in the 1980s and '90s—i.e., "attack the supply." Bennett and Walters' reasoning is impeccable: If there were no heroin, no one would be using it. "The heroin epidemic is inflicted upon us by criminal acts that produce an abundant supply of inexpensive drugs," they write. "Stopping these criminal acts will stop the epidemic."
Sounds simple, doesn't it? But while it is easy enough to "attack the supply," it is quite a bit harder to have a noticeable impact on it. You might surmise as much from the fact that the government has been attacking the supply of heroin since 1914, but the drug has never been cheaper or more plentiful.
The basic problem, as drug policy scholars such as Peter Reuter have been explaining for years, is that imported drugs acquire most of their value after arriving in this country. Hence seizing them en route or destroying them at their source does not impose much of burden on traffickers, who treat such losses as a routine cost of doing business. Since the cost is low compared to the street value, its impact on the retail price (or on purity) is generally imperceptible. That means throwing more money at attacking the supply is a highly inefficient way of discouraging consumption.
But Bennett and Walters—who served in the first and second Bush administrations, respectively—claim their supply-side approach was successful. Is that true? Not according to a 2013 analysis by Dan Werb of the Urban Health Research Initiative in Vancouver and four other researchers. "Between 1990 and 2007," Werb and his colleagues reported in the online journal BMJ Open, "the purity of heroin and cocaine, and the potency of cannabis herb, in the US increased, while the inflation-adjusted and purity-adjusted retail street prices of these three drugs declined."
The price of cocaine did rise after that period. But as Geoffrey Ramsey noted in a 2011 InSight Crime essay, the "emphasis on recent price spikes is misleading, as the overall trend of cocaine prices in the U.S. in recent decades has been overwhelmingly down, not up." Ramsey emphasized that "the inflation-adjusted price of cocaine has plummeted since its commercial introduction to the U.S. in the early 1980s."
What about consumption? Survey data indicate that cocaine use in the United States peaked around 1985. By the time Bennett became George H.W. Bush's drug czar in 1989, the percentage of Americans reporting past-month use was less than half what it had been in the middle of the Reagan administration. That number remained more or less steady during Bennett's tenure. Likewise during the George W. Bush administration, when Walters was the drug czar, and since then, under the supposedly soft-on-drugs Obama. Since the whole point of attacking supply is to reduce consumption, it is hard to see why Bennett and Walters think their approach to cocaine was so successful.
By the same token, it is not clear why Bennett and Walters think Obama has the power to reduce heroin consumption by "interrupting" the supply. They complain that he "has not increased military and law enforcement coverage at the border to stop heroin from Mexico." But that sort of interdiction, even if successful, only encourages traffickers to change smuggling methods or routes. Given the huge profits that prohibition guarantees, there will always be a supply to meet the demand. That is true even inside prisons, where security is tighter than anything the government could manage (or anything we'd want it to attempt) at the border.
Bennett and Walters also aver that Obama "has failed to target heroin distribution throughout the United States." Yet according to data collected by the U.S. Sentencing Commission, the number of federal heroin cases has risen steadily during the Obama administration, from 1,624 in fiscal year 2009 to 2,665 in fiscal year 2014, compared to 1,474 in the last full fiscal year of the George W. Bush administration.
Although heroin consumed by Americans comes mainly from Mexico, Bennett and Walters say, "the world's greatest opium producer" is Afghanistan, which "supplies most heroin found in Canada and is poised to enter our communities as well." Let us consider the implications of that fact.
American and allied troops invaded Afghanistan in 2001 and occupied it for 13 years. Between 2000 and 2010, Dan Werb and his co-authors note, "seizures of raw and prepared opium increased by more than 12,000%." To put it another way, the amount of opium seized in 2010, 57,023 kilograms, was 126 times the amount seized in 1990. Yet heroin prices in Europe, which gets most of its heroin from Afghanistan, fell during this period, and today Afghanistan still produces the raw material for about 85 percent of the world's heroin. Last year, according to the U.N. Office on Drugs and Crime, global opium poppy cultivation "reached the highest level since the late 1930s," mainly because of increased production in Afghanistan.
Even when the war on drugs morphs into an actual war, featuring the invasion and occupation of a source country, it fails miserably. The idea that much more modest military measures can succeed in destroying or blocking the supply of heroin is a fantasy that only an armchair drug warrior could entertain.
This article originally appeared at Forbes.com.