Self-Driving Cars Dodging Deer and Regulators So Far
Self-driving vehicles are legal in most states.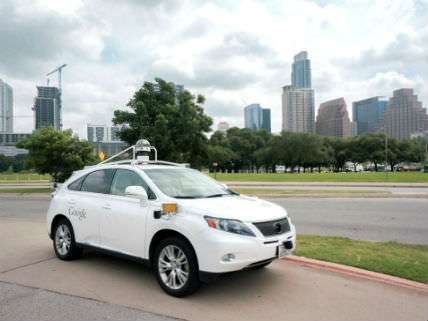 Google has just released its latest report on its self-driving car project. The company is now operating small fleets of autonomous vehicles in Silicon Valley and Austin, Texas. Over the past six years the company's vehicles have traveled over 2 million miles and have been involved in 16 accidents, in none of which were its vehicles the cause. The most recent incident occurred when one of its vehicles was rear-ended as it stopped for a pedestrian in a crosswalk.
Google's self-driving cars have been traveling the byways of Austin for two months where suicidal deer are a particular roadway menace. So far they have avoided producing road kill venison.
More importantly than avoiding errant fawns, does, bucks, the company's self-driving cars have managed to escape the clammy clutches of state and federal regulators so far. The Washington Post reported last week that tests of autonomous vehicles will begin on highways in Virginia. The good news is that the state's legislators and regulators do not believe any new rules are necessary to sanction the tests. As the Post noted:
When self-driving cars begin zipping through Northern Virginia this year, they won't need any special registration, and the testers sitting behind the wheel won't need a special license. In the eyes of the law, they'll be regular cars.

Virginia is one of a handful of states seeking to attract the potentially lucrative business of developing self-driving cars. And along with a few other states, its lawmakers and regulators are inclined to welcome the industry — and get out of the way. …

In states such as Virginia and Texas, however, self-driving cars can hit the roadways thanks to a simple argument: Doing so is legal because the law doesn't say otherwise.

"Automated vehicles are probably legal," said Bryant Walker Smith, a University of South Carolina law professor whose research helped advance that interpretation. "That is the default assumption."

That's the view Google took this summer when it put driverless, retrofitted Lexus SUVs on the road in Austin, the first time the tech giant has run tests outside of California. Texas transportation officials say they are not involved with the project.
This is exactly the sort of permissionless innovation that enables rapid technological progress. Google's report says that the company has not devised a specific timeline for rolling out the technology, but does note that project head Chris Urmson's goal is to make sure his 11 year old son doesn't need to get a driver's license.
For more background, see my article, The Moral Case for Self-Driving Cars.