Yesterday's Taxi of Tomorrow, Today! (Whether you like it or not.)
The New York Taxi and Limousine Commission opts for one cab to drive them all.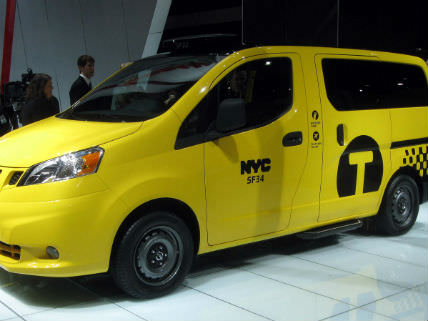 The success of Uber and other ride-booking companies in New York City has highlighted just how antiquated the services of the taxicab industry, a municipally enforced monopoly, are. It's also demonstrated riders' preference for choice in transportation.
But yesterday a new rule from the New York Taxi and Limousine Commission (TLC) that gives riders and drivers less choice in yellow cabs went into effect. The TLC now mandates that all new and replacement yellow taxis, with limited exceptions for alternatively fueled and handicap-accessible vehicles, be the same Nissan van for the next 10 years.
The TLC dubbed the Nissan NV200 the "Taxi of Tomorrow" four years ago, and believes this one van will meet the diverse needs of not just today's but also ten-years-from-now's riders and drivers.
Although taxi medallion owners fought the erosion of their monopoly as ride-booking apps entered the scene, they seem to prefer competition when acting as consumers. In 2013, a group of them sued the TLC, challenging Nissan's exclusive 10-year contract with New York City.
Speaking to Automotive News in 2014, Attorney Ethan Gerber for the Greater New York Taxi Association, an industry trade group representing taxi owners, stated:
"Look, Nissan is a good company. And the NV200 is not a bad car. If it turns out that people like it, then great—they should be able to sell them here. But why can't we have competition? Why did the city think there had to be exclusivity? It stifles competition and stops innovation. Why couldn't we just have standards for the taxi, and if Toyota and Ford wanted to offer an identical vehicle that might be somehow better or more competitive, why can't they?"
Why can't they indeed.
With a $1 billion exclusive contract with the TLC on the line, Nissan Taxi Marketing N.A. LLC and Nissan North America Inc. had filed motions to intervene as interested parties and submit an answer in the lawsuit against the TLC. The New York State Supreme Court granted Nissan's motion in its entirety.
Though some doubted whether the "Taxi of Tomorrow" would ever arrive, the New York State Court of Appeals held this June that the TLC does have statutory authority to require medallion owners to purchase a single specific vehicle.
In the end, Nissan's litigation efforts seemed to have paid off, as did its more-than-$2 million public relations campaign promoting the NV200 in New York City. (Rob Schwartz, the chief creative officer at Nissan's longtime ad agency, once told the New York Times that "this is the greatest moment for taxis since Danny DeVito played Louie De Palma on 'Taxi.'") The media blitz was apparently enough to overcome then–New York City Public Advocate Bill de Blasio's contention that supporting the NV200 amounted to "contributing to a Nuclear Iran," since Nissan had done business in the country.
Back in 2012, de Blasio tweeted an apparently photoshopped image of Iranian hardliner Mahmoud Ahmadinejad waving from an NV200 (see below). As mayor, however, he has overseen the implementation of the van's 10-year reign as New York City's official taxi.