Chipotle Sued Over Misleading Claims About Selling GMO-Free Foods
Enjoy the delicious schadenfreude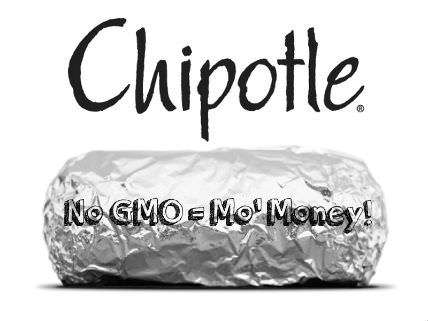 A California woman Colleen Gallagher has filed a lawsuit against upscale taco vendor Chipotle for making misleading claims about selling GMO-Free foods at its restaurants. Chipotle has certainly made misleading, in fact, more or less totally false claims about the safety of GMO foods, but that is not what Gallagher is suing over.
According to Reuters:
A California woman has accused the popular chain in a lawsuit of false advertising after it trumpeted on April 27 that it was the first national restaurant company to use only ingredients that are free of controversial genetically modified organisms, or GMOs.

In her lawsuit filed Friday in federal court in San Francisco, the plaintiff Colleen Gallagher also alleged that Chipotle violated the Federal Food, Drug and Cosmetic Act because its food labeling is false and misleading, and deceived diners into paying more for their food.

"As Chipotle told consumers it was 'G-M-Over it,' the opposite was true," the Piedmont, California resident said. "In fact, Chipotle's menu as never been at any time free of GMOs."
Basically, Gallagher is pointing out that Chipotle sells soft drinks made with ingredients from modern biotech crops and that lots of the meat in its tacos come from animals fed with grains from biotech crops. The fact that Chipotle admits these exceptions to its silly anti-GMO policy on its website is evidently not enough for the litigious Ms. Gallagher.
It is quite true that Chipotle's unscientific anti-GMO marketing gambit has most likely "deceived diners into paying more for their food," but it has also deceived diners about the proven environmental safety and human health records of modern biotech crops.
Chipotle does mislead its customers, but not (just) for the reasons Gallagher outlines in her lawsuit. Also, this case is a further indication of how dysfunctional our civil litigation system is, but that is an issue for another time.