Teen Boy Will Be Charged As Adult For Having Naked Pics of a Minor: Himself
Kafka-esque sexting nightmare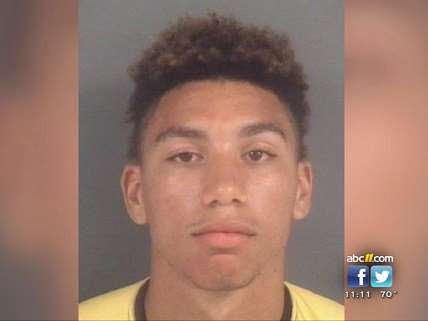 A North Carolina 17-year-old caught in a sexting scandal faces charges of sexually exploiting a minor that could land him in jail for up to 10 years, since the law considers him an adult. But one of the minors he supposedly exploited is himself­—which raises an obvious question: how can a teen be old enough to face adult felony charges, but not old enough to keep a nude picture of himself on his phone?
Unfortunately, that's the Kafka-esque nightmare in which Fayetteville-area high schooler Cormega Copening finds himself after exchanging private nude photos with his girlfriend—with whom he is legally allowed to have sex, but not to sext.
I wrote about Copening's story on Tuesday. Since then, I've learned new information that makes the local sheriff's office's actions seem even more ludicrous.
But first, to recap: Copening and his girlfriend—now identified as Brianna Denson—are like other teenagers in that they have more than a passing interest in sex. Indeed, when they were 16, they exchanged racy sexy photos via text message. Denson sent pictures to Copening, and Copening sent pictures to Denson. It appears that no one else saw the pictures until local authorities searched Copening's phone and discovered them.
Why did they search his phone? It's not clear, but local news reports claimed that it had nothing to do with the sexts themselves. The Cumberland County Sheriff's Office did not respond to a request for comment. According to fayobserver.com, there is no record of a search warrant being issued for Copening's phone.
Both teens were charged with sexual exploitation. Denson pleaded guilty to a lesser charge and was given 12 months of probation.
Copening, however, is still facing two counts of second-degree sexual exploitation and three counts of third-degree exploitation. As Ricochet's Tom Meyer points out, the third-degree charges—which constitute a majority of the total charges—actually stem from the pictures Copening had of himself. The implication is clear: Copening does not own himself, from the standpoint of the law, and is not free to keep sexually-provocative pictures, even if they depict his own body.
But consider this: North Carolina is one of two states in the country (the other is progressive New York) that considers 16 to be the age of adulthood for criminal purposes. This mean, of course, that Copening can be tried as an adult for exploiting a minor—himself.
I discovered this when I asked Fayetteville Observer Executive Editor Mike Adams about his publication's decision to release the names of the teens (something countless other local news reports did as well). He explained to me that it's the company's policy to publish the names of adults charged with felony crimes, which includes Copening and Denson, in this case. But The Observer didn't fully comprehend that Copening and Denson were also the victims—and, by some bizarre quirk of the law, minors in a different sense—until after its original reporting on the issue had already been published.
"I don't think sexting was considered when this sexual exploitation law was put on the books," Adams told me.
Indeed. Maybe the legislature should revisit the issue. In the meantime, there is still no excuse for local cops to pursue charges against Copening. They have already humiliated him and damaged (perhaps irreversibly) his high school football career over mildly worrisome behavior that should not even constitute a crime. Cumberland County should exercise some discretion—perhaps some maturity as well—and let this matter go.
The Observer's Paul Woolverton also covered the insanity of North Caorlina's sexual exploitation law as applied in this case. Read his excellent story here.