Scott Walker Thinks He Might Want a Wall on the Canadian Border Too (UPDATE: Or Did He Misunderstand the Question?)
You know, just in case
Scott Walker escalates the border-control rhetoric:
Universal Pictures

Wisconsin Gov. Scott Walker (R), a staunch advocate of beefing up security on the southern border, said Sunday he is open to building a wall on the U.S. border with Canada as well.

The Republican presidential candidate said the idea of building a northern wall was brought up to him during a recent town hall in New Hampshire.

"That is a legitimate issue for us to look at," Walker said Sunday on NBC's "Meet the Press."
That's fine if you're in Wisconsin, but who will be the first candidate to call for a coastal wall? Can the homeland truly be secure when any terrorist can wash up on our Atlantic and Pacific beaches? WHO WILL PROTECT US FROM THE ISIS SHARKS?
Addendum: Some people are suggesting that Walker didn't actually intend to flirt with a northern wall: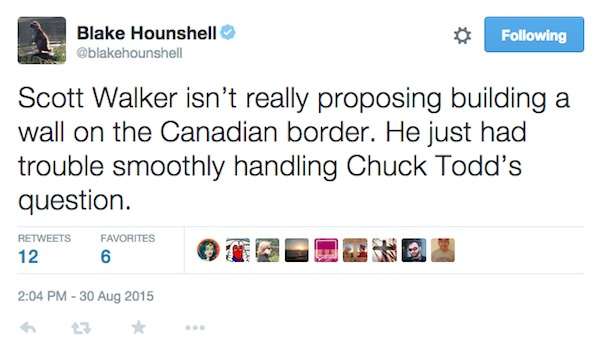 Is Hounshell right? Maybe! Here's the transcript:
CHUCK TODD: Why are we always talking about the southern border and building a fence there? We don't talk about a northern border, where, if this is about securing the border from Isla— from, potentially, terrorists coming over—

SCOTT WALKER: Well—

TODD: Do we want to build a wall north on the border too?

WALKER: Some people have asked me about that in New Hampshire. They've raised some legitimate concerns, including some law enforcement folks, that brought that up to me at one of our town hall meetings about a week and a half ago. So that is a legitimate issue for us to look at.
On the page, that sure looks like Walker was calling a northern wall a "legitimate issue for us to look at," and that's how a bunch of media outlets are presenting it. (Including Meet the Press itself, which posted the exchange under the headline "Northern Border Fence 'a Legitimate Issue.'") But if you watch the video, you'll see Walker was chafing to break in throughout Todd's question; he could plausibly claim not to have caught the bit at the end about building a wall. In that case the "legitimate issue" would just be the broader subject of border security up north. And while I think Walker is overly fearful about that, there's a difference between calling it a legitimate problem and calling a fence a legitimate solution.
Thus far, Walker's reaction to the uproar over the interview has been to issue these tweets:

Kind of a Delphic response. But if he wants to clarify his position, I'm sure he'll have plenty more opportunities.