Virginia State Cop Forced BBC Reporter to Delete Footage of Vester Flanagan Crash Site
The State Police are looking into the incident.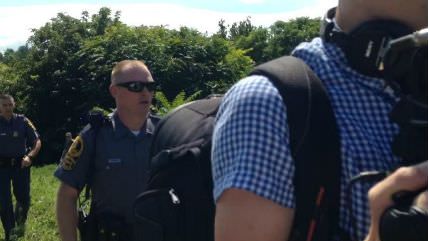 (Franz Strasser & Tara McKelvey)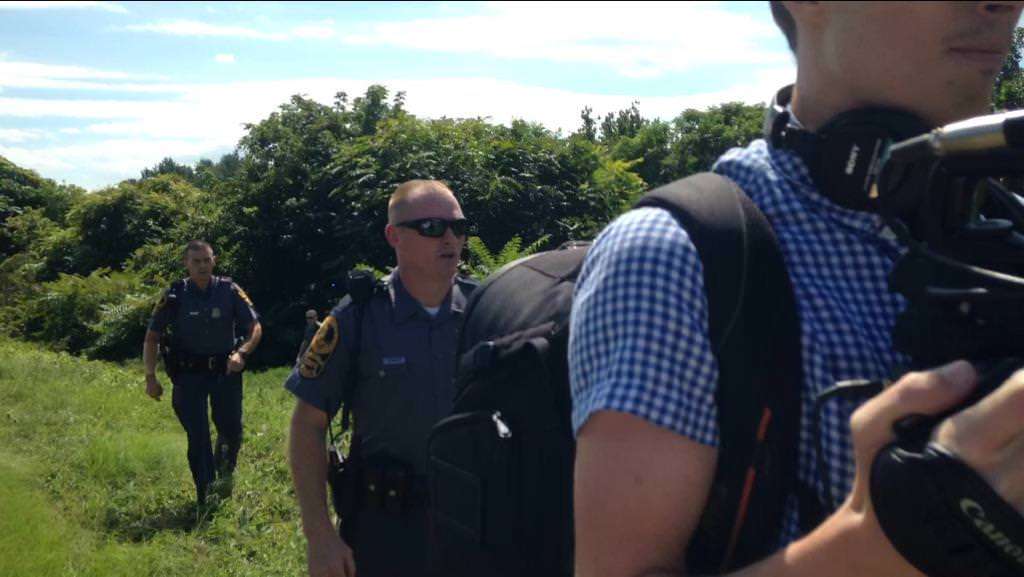 A Virginia State Police (VSP) officer forced a reporter to delete footage of the scene where Vester Lee Flanagan crashed his vehicle on the side of a Interstate 66 on Wednesday after allegedly killing two TV reporters in Virginia. The cop also threatened to have the reporter's car towed.
Franz Strasser, a video journalist with BBC (who, full disclosure, I met at a conference in June), and his colleague Tara McKelvey were en route to Roanoke to report on the shooting when they happened upon the crash site near the tiny town of Linden, Virginia. They pulled over into the median of the highway and Strasser began rolling.
"By the time I came to a full stop I was probably 200 yards away," he explains. "So I took my camera and I went through the brush towards the police cars."
He says about a dozen cop cars, lights flashing, surrounded the crashed silver vehicle, but that the officers were mostly just standing around—until they saw him walking up.
"Maybe half a dozen police officers started running towards me," he says. "I could hear them shouting, 'Get back to the car! Get back to the car!'"
He retreated back through the brush toward his car where McKelvey was waiting, but a number of cops followed, yelling that he needed to "get out of here." One in particular (not pictured) was angry.
"I was about to put my camera back in the trunk when one officer closed the trunk," he says. "I looked at him and just thought, 'What's going on?'" Strasser says the cop then told him his car was going to be towed for being illegally parked and his camera seized because it "might contain evidence." The VSP officer took the camera out of the reporter's hands.
When Strasser said he was willing to go but that he needed his car and camera to do his job, the cop forced him to delete the footage he had just recorded first. "He was very close to me, looking at the screen and looking at every step I took, making sure that I did hit 'delete' and did hit 'submit,'" Strasser says. "Towing the car wasn't brought up again."
Strasser and McKelvey didn't get the name of the officer who insisted the footage be deleted, but their bureau chief has filed a formal complaint and a spokeswoman for the state police tweeted that they were looking into the incident "as such actions violate VSP policy."
As Strasser tweeted right after it happened, "Reason for confiscating camera was that it was evidence. … But why they are then okay with deleting 'evidence' makes one question their reasoning."
He says VSP has already assigned an officer from the internal investigations unit to the case. He'll meet with that officer in person on Monday. "At this point, I don't want to pass any judgment," he says. "I'm really happy that Virginia State Police is looking into this."
A BBC spokesperson also emailed me this statement: "We've spoken to Virginia State Police, who have taken our concerns very seriously, and we are now awaiting the outcome."
Strasser and the BBC are "pretty confident" they'll be able to recover his deleted footage, which, since he kept filming throughtout the confrontation, would at least provide an audio record and may help investigators identify the rogue cop.
After leaving the the scene of the crash, he and McKelvey continued on to Roanoke, where they produced a story for BBC on the shooting. "We honor the work of @WDBJ7 in this video and text feature. Hats off to you and how you handled things amid tragedy," Strasser said in a tweet yesterday when it was released.