The Same Video That Led to Randall Kerrick's Swift Arrest Resulted in Last Week's Mistrial
The jury in the Jonathan Ferrell shooting case deadlocked based on different interpretations of his sudden flight.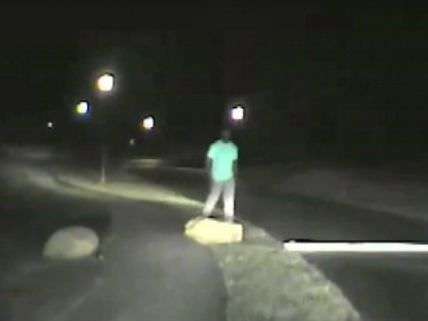 Last Friday, after deliberating for 19 hours over four days, the jury in Randall Kerrick's manslaughter trial deadlocked on the question of whether the white Charlotte, North Carolina, police officer used excessive force when he shot Jonathan Ferrell, an unarmed black man, 10 times in September 2013. Interviews conducted by The Charlotte Observer over the weekend revealed that seven jurors wanted to acquit Kerrick in the first vote, and one more shifted to that side by the end. Dashcam video of the encounter, which persuaded Charlotte-Mecklenburg Police Chief Rodney Monroe to arrest Kerrick the day of the shooting, evidently convinced eight jurors that Kerrick's self-defense claim was plausible.
Kerrick shot Ferrell while responding to a report of a home intruder from a woman who was alarmed when Ferrell banged on her door in the middle of the night, seeking help after crashing his car. The video shows Ferrell calmly approaching Kerrick and two other officers until the light from a Taser's laser sight appears on his chest, at which point he runs off camera. Prosecutors said Ferrell panicked, thinking he was about to be shot, and incidentally ran in Kerrick's direction. Defense attorneys argued that Ferrell, who was shot three seconds after Kerrick ordered him to lie on the ground, posed a clear threat that could be neutralized only with deadly force.
Most of the jurors apparently leaned toward the latter interpretation. "We saw [the video] 15 times on the first day," the foreman, Bruce Raffe, told the Observer. "We also took it back into deliberations. We felt like it was an aggressive move towards the police officer. To me, he wasn't doing anything other than making an aggressive assault."
Moses Wilson, one of the four jurors who voted to convict, said Ferrell and Kerrick both made serious mistakes that night, but Kerrick's were more egregious. "Putting Jonathan Ferrell on trial because he did not do or see or act the way the defense said he should act when he sees a police officer demeans the role of police officers in Charlotte," said Wilson, a military veteran and former constable. "People should not be afraid to walk up to a police officer." But Wilson, the only black man on the jury, agreed with other jurors that race was not a factor in the shooting. "Those who call him a racist killer are wrong too," he said. "It's not like that. He lost it."
It's pretty clear from Kerrick's tearful testimony that he honestly perceived Ferrell as a threat. It is hard to say whether that was reasonable in the circumstances, and whether deadly force was the only option, without footage of the shooting itself, which can be heard but not seen on the dashcam video. Neither of the two other officers at the scene drew a gun. One of them, Adam Neal, testified that he never considered doing so, while the other, Thornell Little (the one who tried to incapacitate Ferrell with a Taser but missed) said he could imagine shooting a suspect to stop him from taking his gun, which is what Kerrick said he did.
Prosecutors have not decided yet whether to retry Kerrick.