New York State Cracking Down on Times Square Topless Women
Crony capitalism and the nanny state work together to clamp down on free expression and commerce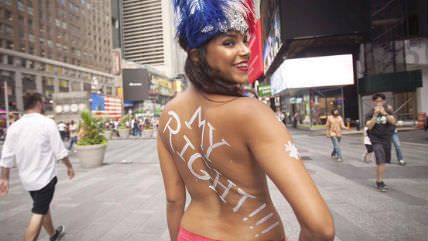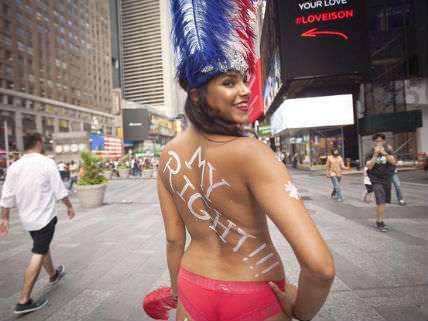 Going topless in New York is not against the law, but the state has found a way to crack down on the topless women who have made themselves a tourist attraction in New York City's Times Square. The state's action illustrates the problems crony capitalism, the nanny state, and over-legislation can present to a free society.
Economic activity in Times Square, one of the most famous commercial locations in all the world, actually falls under the jurisdiction of the state government, as well as the city, because it is part of the state's economic development (crony capitalism) work, as the 42nd Street Development Project.
Because of that status, the Empire State Development corporation (ESD), the state's "chief economic development agency," can set rules for Times Square. Last week, the board of directors voted on a last minute resolution that insisted the topless women were breaking the law against disturbing the public order, because they had a "tendency" to disrupt commercial activity in Times Square. But the women are taking photos with tourists in exchange for money, isn't that a commercial activity? Of course it is, but not the kind the state's cronyist development agency is interested in.
Lawyers at the ESD insist the agency is not against free speech. Via Politico New York:
"For very clear First Amendment reasons, and reasons of freedom of expression, we are not trying to regulate content," [ESD senior counsel Robin] Stout said, adding, "it is the secondary effects of potential artistic expression which is the focus of today's clarification."
Here's some artistic expression for Stout: fuck off, slaver. Hope it doesn't have "secondary effects." Stout's argument, of course, is bullshit, and hardly a new kind. Bureaucrats around the country have looked for clever ways to excuse limiting free expression without admitting that's what the intention was. The tendency for government officials to draw lines separating artistic expression and commercial activity is troubling too, and not based on reality, where artistic expression is often coupled with commerical activity. The "starving artist" is not a sustainable model.
Civil liberties experts argue the state agency got it wrong on the topless performers in Times Square. Politico New York quotes Norman Siegel, the former head of the New York Civil Liberties Union:
"Governor Cuomo and the New York State Urban Development Corporation misconstrue the law pertaining to public order," he said. "Each of the sections they cite in their resolution require individual behavior that violates the penal law. The law does not provide the government with an umbrella to scoop individual people up."

"It's surprising and disappointing that this resolution actually passed," he said. "This is not really thoughtful legal analysis."
Siegel's got a long career in advocating for civil liberties in New York City, so while he is certainly allowed to still be disappointed by local and state government officials, they shouldn't surprise him anymore. While New York City Mayor Bill de Blasio may adopt the mantra of "black lives matter" to improve his electoral prospects, he and Cuomo's tendency to want to crack down aggressively on peaceful people soliciting donations in exchange for entertaining tourists in Times Square, a location to which tourists flock in order to be entertained, betrays the fundamental paradox between progressive, big government politics and the movement to limit police and state violence. No display of solidarity, no amount of rhetoric or good intentions, can make that paradox go away.