Election 2016: Where the Democrats Stand on Criminal Justice and Police Reform
What leading liberal candidates are saying, and not saying, about improving the nation's justice system.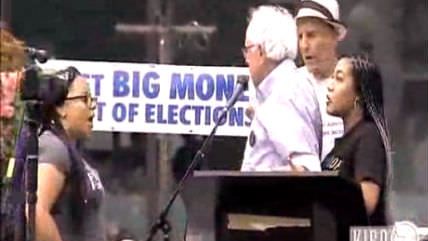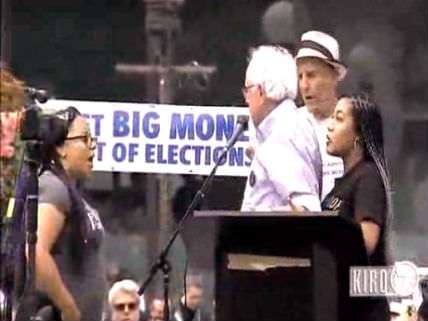 This weekend, protesters affiliated with the "Black Lives Matter" movement stormed the stage at a rally in Seattle for Sen. Bernie Sanders (I-Vt.), a candidate for the Democratic presidential nomination. Some Sanders supporters booed when event organizers allowed the protesters to speak before Sanders. Sanders eventually left without addressing the crowd. One protester, Marissa Johnson, said she wanted "to tell Bernie how racist this city is, with all of its progressives" but that the crowd had "already done that for me."
Last month at the Netroots Nation Democratic presidential candidates forum, protesters from the "Black Lives Matter" heckled the candidates and took to the stage to demand they address issues of police and criminal justice reform.
Only Martin O'Malley, the former mayor of Baltimore and governor of Maryland, and Sanders attended that event. O'Malley drew the ire of protesters for trying to address their concerns by lumping in victims of police violence with victims of civilian violence and saying the "all lives matter." Sanders had less patience, at one point telling protesters he didn't have to be there if he didn't want them to.
While the issue of criminal justice and police reform has burst onto the national stage in the last year, with even Barack Obama, six years into his presidency, finally focusing on the criminal justice and police reform issues, substantive engagement has so far been minimal, with several candidates giving criminal justice reform policy addresses and most of the discussion over the issue being reserved to those addresses. There's little sign that the issue will enter the ongoing campaign trail discussions any other way than by protesters confronting candidates.
O'Malley, who as mayor of Baltimore helped create an environment of aggressive, unconstitutional overpolicing, has been the target of Black Lives Matter protesters before, at his announcement in May. But other candidates, most notably Hillary Clinton, by far the Democratic frontrunner, have avoided protesters so far. From Clinton to Lincoln Chafee, the Republican-turned-Democrat former Rhode Island senator and governor, the candidates have addressed criminal justice issues, if not their past positions on them. Reason sent a series of questions on criminal justice and police reform to the major candidates; only one responded at all, and none gave direct answers.
Still, the candidates all have histories and records. Here's a review of what each of the declared Democratic presidential candidates have said and done, or not said and not done, about criminal justice reform in the U.S.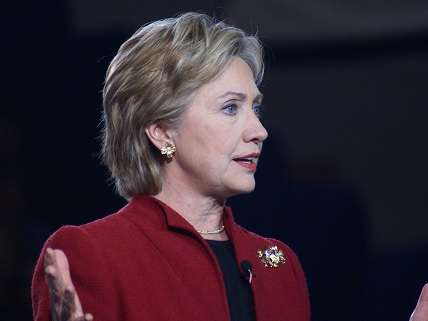 Hillary Clinton
In April, Clinton gave a policy speech on "race and justice in America" at Columbia University just days after the Baltimore riots over Freddie Gray's death at the hands of cops. Her speech sought to connect the need to "rebuild the bonds of trust and respect" between police and citizens, and "also across society…in our politics, our press, our markets." She offered two policy solutions—"smart policing," including community policing, using federal funds to "bolster best practices rather than to buy weapons for war," and promoting the proliferation of body cameras, and an end to the "era of mass incarceration."
Clinton talked about her work as a children's lawyer in the 70s and 80s, saying she "saw repeatedly repeatedly how our legal system can be and all too often is stacked against those who have the least power, who are the most vulnerable. I saw how families could be and were torn apart by excessive incarceration." But she didn't address the role her husband Bill played in the mass incarceration project as president in the 1990s. Bill did express regret later, nearly fifteen years after leaving office. She said she wanted to "pursue alternative punishments" to keep low-level offenders out of jail, but not out of the criminal justice system.
"They do have to be in some way registered in the criminal justice system," Clinton said, revealing a lack of senstivity to the connection between mass incarceration and mass state supervision. While it's better for someone to be registered and at home with their family than locked in a cage, being under state supervision is not the same as being free. The fear that comes with living under state supervision or the threat of returning to jail has contributed to tense police interactions, with victims of police violence like Walter Scott in South Carolina preferring to run instead of taking the risk that an interaction with police may cost them their freedom. Clinton mentioned Walter Scott among other victims of police violence in her speech. Many of these people feared an interaction with police because they were in the system—"registered" in Clinton's policy-speak.
Clinton also mentioned her time in the U.S. Senate, pointing to her support of "community policing" legislation, which puts more officers on the street to "build relationships" with residents. In an environment of aggressive petty law enforcement as revenue generation scheme—problems not addressed by Clinton—rebuilding "trust" is impossible.
The absence of substantive discipline against bad cops, a function of powerful police unions, also threatens any positive benefit to "community policing." Clinton doesn't have a history of interest in curbing the power of police and other law enforcement unions that have thrived in the "era of mass incarceration," co-sponsoring a bill in 2007, the Public Safety Employer-Employee Cooperation Act, that would set a minimum nationwide standard for collective bargaining for public safety employees—providing those agents of the government that are armed and given wide latitude to use force even more bargaining power vis a vis their "employers," also known as the government and, according to small- and large-D democratic rhetoric, the people.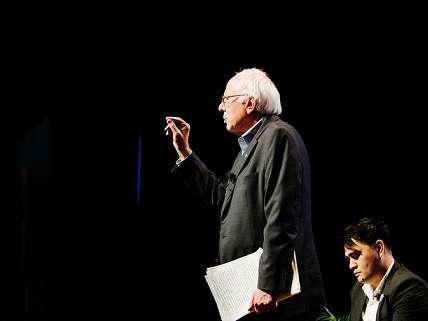 Bernie Sanders
Bernie Sanders has played one note on the campaign trail to greater success than most observers predicted.
He's the only non-Clinton hitting double digits in Democratic polls, and has built that support by focusing on economic populism and income inequality almost exclusively. While Sanders has expressed his support for "mass mobilization" as a means to effect change, he didn't even bother mentioning the "Black Lives Matter" movement as one such protest group that is driving a national conversation despite resistance from an establishment that's settled into a comfortable relationship with the special interests emanating from the criminal justice system. As I noted last month, Sanders' blind spot may be one of ideological necessity—Sanders' conception of a government-endorsed "middle class" by necessity includes those public employees, like cops and correctional officers, who have found their place in the middle class through employment that can sometimes exploit marginalized communities.
Sanders addressed race and criminal justice in a speech to the Southern Christian Leadership Conference in Louisiana this weekend, talking about the case of Sandra Bland and offering that a middle-class white woman would not have been dragged out of her car, assaulted, and thrown in jail in a similar situation. Such a statement betrays a position informed by rhetoric and not consideration of the underlying police issues. Black people may be far more likely to be victimized by police, but even a white, female Sunday school teacher can be shot by a cop. Most police reform activists understand this much better than the politicians looking to co-opt their movement. In his Louisiana speech, too, Sanders quickly sought to connect outrage over racialized state violence to the economic populism he's most comfortable with.
Like Clinton, Sanders too voted in the senate in favor of community policing and more cops on the street in poor communities. Like Clinton, he has not directly addressed either the practice of petty law enforcement as government revenue generation nor the role of police unions in preventing reforms.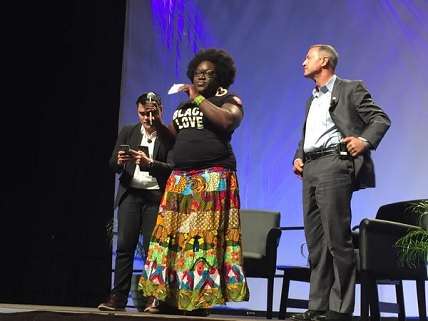 Martin O'Malley
Martin O'Malley spent 8 years as mayor of Baltimore, from 1999 to 2007, then eight years as governor of Maryland. While mayor of Baltimore, he supported policies that led to tens of thousands of additional arrests for low level offenses—that petty law enforcement during which much of the most troubling instances of police violence occur.
Neill Franklin, who spent 34 years as a cop with the Baltimore Police Department and then the Maryland State Police and is now executive director of Law Enforcement Against Prohibition, explained to Reason TV how O'Malley's focus on short-term goals and instant results from police created the conditions that led to this year's riots over the death of Freddie Gray while in police custody.
Baltimore journalist David Simon, who created HBO's The Wire, also explained in an interview with the Marshall Project how O'Malley created a toxic police environment of systemic civil rights abuses in Baltimore. O'Malley easily won re-election in 2003 while this was happening, and was elected governor in 2009. In the Marshall Project interview, Simon said he would end up voting for O'Malley for president if he were the Democratic nominee, because of his stances on issues like gay marriage and the death penalty.
In July Reason sent a number of questions on criminal justice and police reform issues to the different presidential candidates. Only O'Malley's campaign responed, telling us he would be addressing the issues in a speech soon. Last Friday, he spoke about criminal justice and police reform in an address before the National Urban League. He didn't address the problematic aspects of his policy history. Instead, he pointed to "the largest violent crime reductions in modern history" in Baltimore and in Maryland in general, saying this had happened by government becoming "smarter about public safety policies and actions that actually work to save lives, and redeem lives."
In the same time period that arrests and aggressive policing went up, O'Malley noted that from 1999 on "a thousand fewer black men died violent deaths in Baltimore thanks to the biggest ten year improvement in public safety of any big city in America." It's a political argument close to the one laid out by some conservatives, that the kind of policing, now being widely criticized, that was implemented by big city leaders like O'Malley or New York City's former Republican mayor, Rudy Giuliani, actually led to lower murder rates for black people.
O'Malley's speech paid lip service to the need for police, and politicians, to "believe that you do not surrender your human dignity" from petty violations like not using your turn signal or driving with a burnt out tail light. But it didn't offer any specifics about how to ensure more police officers who respect "human dignity" are hired, or about how to make it easier to fire cops, like perhaps the six on trial for the death of Freddie Gray, who have demonstrated they may not have high standards for human dignity.
O'Malley talked about decriminalizing possession of small amounts of marijuana, providing ex-offenders with ID cards, offering more training in jails, abolishing the death penalty, and restoring voting rights for ex-felons as part of his record on criminal justice reform, but offered little consideration about whether any of the laws that create felons in the first place ought to be reviewed, pushing instead for more drug treatment and training for cops to deal with mental illness. O'Malley claims he did a "better job of policing our police" through "better recruitment, better training, and better pay," but didn't acknowledge the role Baltimore's broken relationship between police and the communities they serve played in spurring protests and riots earlier this year.
O'Malley's electoral history in majority-Democrat jurisdictions, and the willingness of people like Simon to forgive O'Malley's sacrifice of civil rights in order to attain higher office when he's seeking higher office yet again, illustrate the difficulty criminal justice and police reform have in gaining traction in the Democratic presidential race. O'Malley and Clinton both played crucial roles in contributing to the problems of criminal justice and policing getting so much attention in the U.S. today, and are being allowed, so far, to redefine their positions without having to take responsibility for their past positions.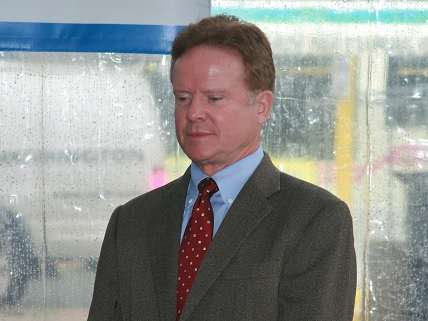 Jim Webb
In an alternate universe, where enough of the Democratic base is demanding attention be paid to criminal justice reform, perhaps former Virginia senator Jim Webb is the insurgent candidate, or even the frontrunner.
He's been calling for review and reform of the criminal justice system for years, sponsoring legislation in 2009 for a "blue ribbon commission." The bill didn't make it out of the senate and while Webb spent much of his time in the senate focused on criminal justice reform, he left office in 2013. In April, he said his advisors told him focusing on criminal justice reform in his presidential campaign would be "political suicide." Webb announced his candidacy for president in July, saying criminal justice reform would be one of the issues he would focus on, and his campaign has gone nowhere since. Instead, the early Democratic race is animated instead by the candidates jockeying for the left-most economic rhetoric.
Lincoln Chafee
Lincoln Chafee is technically running for president, but he hasn't said all that much since announcing his candidacy in June. Chafee served as a Republican senator from Rhode Island from 2000 to 2006, then ran for governor in 2010 as an independent. He was the first governor since 1924 not to seek re-election. His successor unveiled an initiative to start working toward criminal justice reforms in Rhode Island earlier this month.