St. Louis County Declares State of Emergency After Unrest in Ferguson on One Year Anniversary of Michael Brown Killing
As goes Ferguson...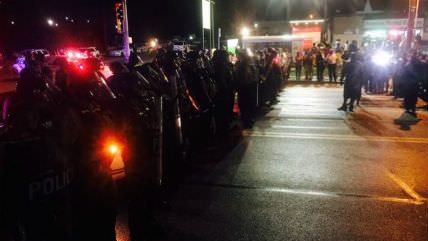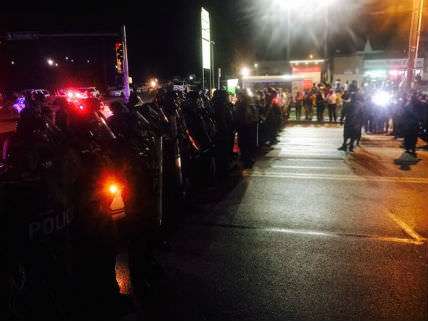 The media descended on Ferguson on the one year anniversary of the killing of Michael Brown. Peaceful protests were interrupted by a shoot-out between multiple people, at least one of whom allegedly shot at cops before he was shot by cops and critically injured. After the shooting, police presence "turned heavy," according to CNN. Police claim other protesters threw rocks at them, with three officers sustaining injuries. A journalist was also reportedly robbed in a parking lot, and several local businesses were damaged. Police say they called in tactical units, and this afternoon the county executive declared a state of emergency in response, hoping to prevent unrest amid protests scheduled for today.
A year ago yesterday, the killing of Michael Brown by a police officer in Ferguson, Mo., sparked protests in the suburb of St. Louis that spread across the metro area and the country. A grand jury declined to indict Darren Wilson, the officer who killed Brown. The Department of Justice (DOJ) stepped in and found no reason to question Wilson's claim of self defense and no reason to bring charges. The DOJ found much of the witness testimony suggesting foul play unreliable. It's unlikely, for example, that Brown's last words were "hands up, don't shoot," while it's almost certain he tried to take Wilson's gun from him while the officer was still in his vehicle. While some people staked to the hagiography of Ferguson question the DOJ report, they offer no argument as to why the DOJ, which under President Obama and then Attorney General Eric Holder was more active in police oversight than it ever had been before, would engage in a cover-up.
Even by the DOJ's account the incident pointed to the need for reforms, from rules of engagement to the protocol for medical attention after police use of force. And the police reform movement that grew out of the unrest in Ferguson has moved beyond the one case and to broader problems. Reformers in Missouri were unsuccessful in getting laws passed by the state legislature aimed at police reform, but such campaigns are ongoing around the country, and have led to talk of reforms from the federal to the local level. More sustained attention is paid to individual cases of police misconduct than ever before, and the issue is likely to be an important one in the upcoming presidential election.
Another DOJ report found systemic racism and discrimination by the Ferguson PD, and activists in Ferguson have to continue pressing reforms based on that. Last night, events in Ferguson provide more evidence for why the media and professional protesters should move beyond Ferguson as the wider movement has done. Reforming the Ferguson PD and law enforcement in the St. Louis area is Ferguson's fight, not fixing the problem of police violence everywhere in the country. There are plenty of places to focus on, all deserving their own spotlights. Putting all the attention on Ferguson doesn't negate that.