Confidential Report Finds Officers Violated Multiple Policies in Kelly Thomas Beating
Report Finds Officer 'Savage' and 'Willing to Abuse His Position Of Authority'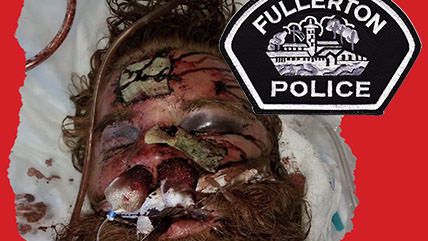 A confidential internal affairs report dated April 2012 looking into the police-related death of schizophrenic drifter Kelly Thomas in 2011 reveals officers violated multiple Fullerton Police Department polices, including those monitoring use of force. Further, the report from the Office of Independent Review, a law enforcement oversight group, was very critical of former officer Jay Cicinelli's descriptions of how he beat Thomas in the face with a Taser "twenty times."
"Thumping the shit out of him", "smashed his face", and "beat" denote excessive use of force per se and should not have been uttered. The mental imagery that such statements convey is a savage person who is willing to abuse his position of authority to exact street punishment to citizens he encounters.
According to the report (Originally published by Voice of OC), one of the first officers to have contact with Thomas, former officer Manuel Ramos, didn't even tell Thomas he was about to be arrested. Then, once the altercation escalated, Ramos ignored Thomas' cries for help:
The failure of Ramos to consider the extremis that Thomas may have been in as demonstrated by his cries of apology, his calls for his father, his screams of pain, and his repeated statements that he could not breathe are not in accord with the actions of a reasonable officer.
In January 2014, Ramos and Cicinellis were found not guilty of criminal charges in Thomas' death. Ramos had been charged with second-degree murder and involuntary manslaughter, the first murder charge for an officer in Orange County history.
Originally, the story didn't get much traction in mainstream news. But, the story went viral on the internet when Thomas's father, Ron Thomas, released grainy video of the incident and a picture of his son, bloodied in the hospital. For more, watch Cops vs. Cameras: The Killing of Kelly Thomas and the Power of New Media.