Environmental Protection Agency Dumps a Million Gallons of Orange Mine Waste into a Colorado River
They were only trying to help.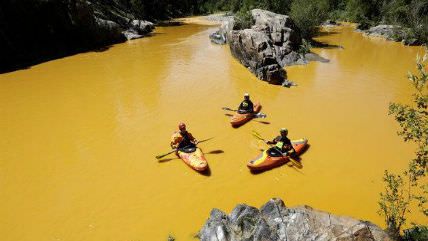 Disturbing news of a real make-work program from the Environmental Protection Agency, reported by Associated Press via Huffington Post: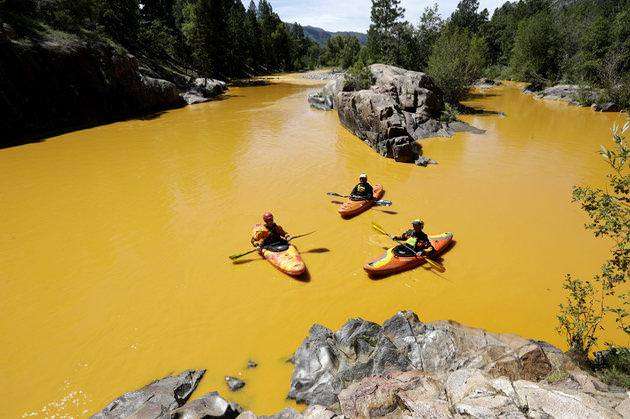 A million-gallon mine waste spill that sent a plume of orange-ish muck down a river in southwest Colorado on Thursday was caused by a federal mine cleanup crew.

The U.S. Environmental Protection Agency said that a cleanup team was working with heavy equipment Wednesday to secure an entrance to the Gold King Mine. Workers instead released an estimated 1 million gallons of mine waste into Cement Creek.

"The project was intended to pump and treat the water and reduce metals pollution flowing out of the mine," agency spokesman Rich Mylott said in a statement.

The creek runs into the Animas River, which then flows into the San Juan River in New Mexico and joins the Colorado River in Utah.

Officials emphasized that there was no threat to drinking water from the spill. But downstream water agencies were warned to avoid Animas water until the plume passes, said David Ostrander, director of EPA's emergency response program in Denver….The acidic sludge is made of heavy metal and soil, which could irritate the skin, he said….

The plume made its way to Durango on Thursday afternoon, prompting La Plata County health officials to warn rafters and others to avoid the water. The scenic waterway was the backdrop for parts of the movie "Butch Cassidy and the Sundance Kid" and is popular with summer boaters.

Durango stopped pumping water out of the Animas River on Wednesday to make sure none of the waste could be sucked up into the city reservoir. It also suspended the transfers of raw water to a local golf course and Fort Lewis College. Pet owners were advised to keep dogs and livestock out of the Animas.