Boehner Endorses Sentencing Reform; Bill Clinton Apologizes for His Role in Mass Incarceration
The SAFE Justice Act gets a boost from the House speaker.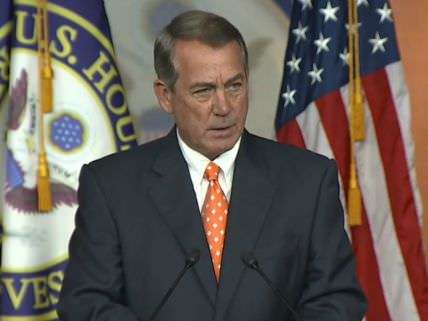 Yesterday House Speaker John Boehner (R-Ohio) agreed with President Obama that Congress should address overincarceration:
I've long believed that there needs to be reform of the criminal justice system….

We've got a lot of people in prison, frankly, who really, in my view, really don't need to be there. It's expensive to house prisoners. Sometimes, frankly, some of these people are there for what I'll call flimsy reasons.
Boehner specifically expressed support for the SAFE Justice Act, which would make the shorter crack sentences enacted in 2010 retroactive, eliminate federal penalties for simple possession of drugs in jurisdictions subject to state law, reserve mandatory minimum sentences for high-level drug traffickers, clarify that gun-related mandatory minimums can run consecutively only "when the offender is a true recidivist," give judges more discretion in sentencing people based on their responses to "reverse stings," encourage more use of diversion and probation, and offer prisoners time reductions in exchange for their participation in job training and other programs aimed at reducing recidivism. That's a pretty impressive package of reforms, and I have to say I'm surprised to hear that Boehner is on board.
"John Boehner's support for justice reform shows that momentum is growing in Congress," says FreedomWorks CEO Adam Brandon. "Not only that, but it's one of the few issues that transcends party lines and we can actually get something done. For too long, lawmakers have enacted big-government mandates that leave us with a skyrocketing prison population, high costs, and broken families. The status quo is unsustainable."
Another sign of the times: While attending the NAACP convention in Philadelphia on Wednesday, former President Bill Clinton apologized for a law he used to brag about: the Violent Crime Control and Law Enforcement Act of 1994—or, as Vice President Joe Biden proudly calls it, "the 1994 Biden Crime Bill." Among other things, that bill made drug sentences harsher, subsidized a nationwide prison-building boom, and expanded the application of the federal death penalty. "I signed a bill that made the problem worse, and I want to admit it," Clinton said on Wednesday. "In that bill, there were longer sentences, and most of these people are in prison under state law, but the federal law set a trend. And that was overdone; we were wrong about that."
That mea culpa is notably stronger than the one Clinton offered in his preface to a collection of essays on criminal justice reform that the Brennan Center published last spring:
By 1994, violent crime had tripled in years. Our communities were under assault. We acted to address a genuine national crisis. But much has changed since then. It's time to take a clear-eyed look at what worked, what didn't, and what produced unintended, long-lasting consequences.

So many of these laws worked well, especially those that put more police on the streets. But too many laws were overly broad instead of appropriately tailored.
Clinton's wife—who, as you may have heard, is seeking the Democratic presidential nomination—has been similarly inclined to make excuses for the draconian penalties she and her husband used to support, although she did concede in 2008 that those policies contributed to "an unacceptable increase in incarceration." Esquire's Charles Pierce suggests that the former president is "clearing his triangulations out of the way so that Hillary Rodham Clinton has a clearer road through the new politics of her party."