Federal Bureau of Land Management to Burning Man: Give Us Real Toilets, and Clean Them! Safety is All!
The federal agents who hold the festival's life in their hands demand to be gifted better accommodations.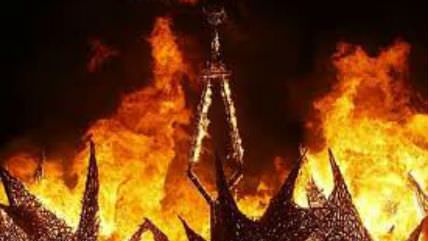 As I detailed way back in my February 2000 Reason cover story about the art and community festival that was born in anarchy and had to learn to adjust to government demands to survive, the Burning Man festival (held the week before Labor Day every year in Nevada's Black Rock desert) survives only by paying off and adjusting to the demands of the federal government that ostensibly "owns" the land the event is held on.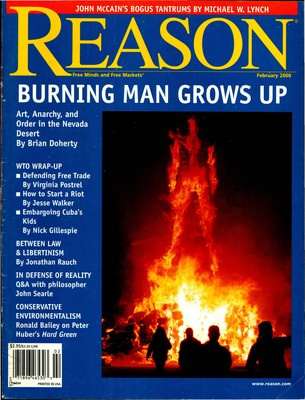 The Reno Gazette-Journal reports today on a new set of demands that the feds want to impose on the people whose ability to run their business/have their fun is alas ruled by the government. Highlights/lowlights:
U.S. Bureau of Land Management officials are asking Burning Man organizers to provide "excessive" comforts such as flushing toilets, washers and dryers, and vanity mirrors in a compound for high-level government officials staying in Black Rock City.

A Burning Man spokesman estimated the compound would cost the event more than $1 million, bringing its 2015 permit fees to about $5 million. The renderings of the compound obtained by the RGJ also show various accommodations set aside for VIP visitors but don't indicate who the visiting dignitaries will be.

The request, unprecedented in Burning Man's history, has turned into a point of contention as organizers negotiate with the agency for their annual permit to stage the event in the Black Rock Desert. No permit has been issued for this year's event, which runs Aug. 30 to Sept. 7. Typically permits are issued in early August.

Burning Man has refused to comply with the BLM's request, which the federal agency submitted on June 1…

Among the amenities included in the request are flushing toilets to be cleaned daily by Burning Man staff, a laundry with washers and dryers, on-demand hot water, air conditioning, vanity mirrors, refrigerators and couches. The event, known for its emphasis on self-reliance in harsh conditions, provides only basic amenities such as nonflushable portable toilets, for ticketed attendees…..

BLM officials contend that their staff can no longer stay in the "primitive" accommodations available in Gerlach, which is about 20 minutes from the event location.

"We're very concerned about where we put people that are part of our staff and that are part of the support and permitting," said BLM Winnemucca District Manager Gene Seidlitz.

"It's safe to say that if you were working 14 to 16 hours a day in white-out conditions on the hot playa, you don't want them to be unrested. Safety, security and health is paramount. That, I will not forgo."
A former BLM man who now works with Burning Man, Bob Abbey, says:
BLM won't "change their strategy of threatening your permit until you agree to everything they are demanding including the latest BS proposal for providing VIP facilities for law enforcement and (Department of Interior) officials."…

Last year, Burning Man paid the BLM more than $4 million for the special recreation permit, which allows the event to have up to 70,000 people each year. The cost has gone up substantially over the past four years, despite the unchanged population cap.

In 2011, Burning Man paid $858,000; in 2012, $1.4 million and in 2013, $2.9 million.

This year, Burning Man expects the additional requirements alone to cost between $1 million and $1.2 million, which would bring total dues paid to the BLM to nearly $5 million, [Burning Man employee Jim] Graham said. Burning Man's special recreation permit is the largest in the country…
My 2004 book This is Burning Man on the event's history and meaning–now available in a $4.99 Kindle-only 10th anniversary edition with a new afterword bringing the story to the present day.