John Oliver Wants to Make 'Revenge Porn' a Federal Crime. Why That's a Terrible Idea
Do we really need the FBI & Homeland Security going after teens who share their girlfriends' boobs on Reddit?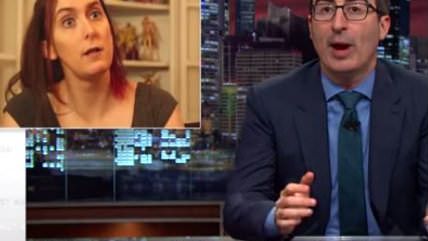 (Screenshot/Last Week Today)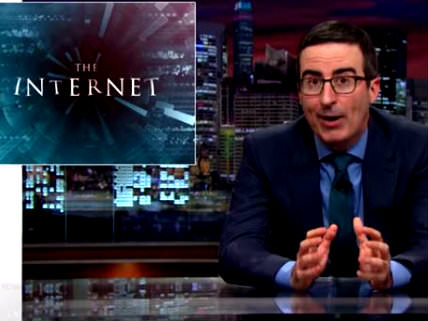 Dear Good People of the U.S. who want to stop The Bad Things from Happening: Great! I, too, want to stop The Bad Things from happening. Most people do. But we have got to talk about this impulse to accomplish good things by simply making all the bad things into federal crimes. It's an easy-to-stumble-upon—aka lazy—solution that ultimately fails us all, even when the actions in question are undoubtedly unsavory.
Last Week Tonight host John Oliver is the latest to succumb to this regulatory red herring. In a lengthy segment yesterday, Oliver endorsed a new federal bill that aims to combat "revenge porn," the term du jour for any posting or sharing of sexually explicit images without the depicted's consent. (As University of Miami law professor Mary Anne Franks notes, the term "revenge porn" is imprecise because "while a number of cases do involve bitter exes whose express purpose is to harm or harass their former partners, many perpetrators don't know their victims at all. A more accurate term is non-consensual pornography, defined as the distribution of private, sexually explicit material without consent.") The not-yet-introduced legislation, called the "Intimate Privacy Protection Act," is a pet project of Rep. Jackie Speier (D-Calif.), who says she'll bring the bill in the House within the next few weeks. It would make the posting or sharing of non-consensual pornography a federal crime.
Yet states can and have been introducing their own laws criminalizing "revenge porn," some of which even strike the right balance between protecting privacy and civil liberties. And private platforms, such as Twitter and Reddit, have also been taking steps to stem the flow non-consensual porn, with Google announcing last week that it would allow people to petition for such images' removal from search results. What is gained by bringing the heavy hand of federal prosecutors into this?
Victims can be just as well served by private or state efforts to thwart the spread of their images. And perpetrators can be rebuked just fine in state criminal or civil courts—without taking up space in our already woefully overcrowded federal prisons or wasting the resources of federal investigators. Let's leave the FBI and Department of Homeland Security to matters of actual homeland security and cross-state criminal enterprise, not chasing down 22-year-olds who text their girlfriends' photos to friends or the random Redditer who decided to download a porn pic that it turns out wasn't meant to be shared.
"The law would carve out exceptions for the 'bona fide public interest,'" Oliver assured us, joking that "if, say, a public figure like Anthony Weiner texted his penis around, we could all still enjoy that story."
But outside of "bona fide public interest" cases, publications and social-media platforms where users post non-consenual porn could be held criminally liable for those users posts—contra Section 230 of the federal Communications Decency Act.
Federal law currently grants Internet service providers and online platforms legal immunity for most content posted by third parties, with exceptions for child pornography, copyright infringements, and—as of last month—sex-trafficking ads. Though the specifics of Spier's bill are not yet available, it seems it would add yet another category of offense for which sites such as Twitter, Google, or Reason could be criminally charged should someone use the site for those ends.
"Frequently, almost inevitably, statutes that try to do this type of thing overreach," Matt Zimmerman, a senior staff attorney at the Electronic Frontier Foundation, told U.S. News about similar legislation Rep. Spier pushed last year. "The concern is that they're going to shrink the universe of speech that's available online," as Internet companies, fearing federal liability, become quick to remove any content about which someone complains.
Franks claims that a federal revenge porn law is needed "to signal society's acknowledgement and condemnation of this serious wrongdoing." But federal law has serious consequences, not just for criminals but for also in terms of economic costs, resource allocation, and civil liberties. It's far too significant to treat as some sort of political sermon or public service announcement.