Cops Caught on Camera…Playing Basketball With Local Teens
Proof that policing doesn't have to be heavy-handed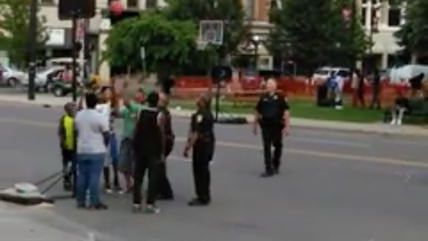 (Rocky Alecia Defrank / Facebook)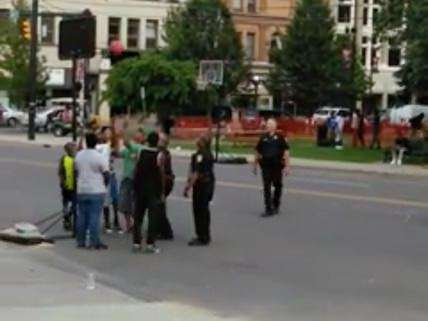 When police get "caught on camera," they're often doing something ire-inducing, like pulling guns on pool-going teenagers or pepper-spraying bystanders for filming them. But this week, two separate images surfaced showing a different side of some cops.
The pictures come from Tacoma, Washington and Warren, Ohio. Both show uniformed officers playing basketball with local teenagers.
According to Q13 Fox TV, "Tacoma Police Spokesperson Loretta Cool said playing basketball with kids is just one of many ways officers interact with the community."
Residents of Tacoma expressed affection for their police department in the Q13 piece.
When I was a freshman in college, there was a bicycle cop whow would make a point to come sit and chat with me and my friends when he was on duty. His attitude, he told us, was to keep students out of trouble by forming friendships with us rather than only showing up after we'd done something wrong.
I can't say his policing strategy deterred any crime (and the academic literature on community policing shows little, if any, effect on reducing crime) but it instilled a mutual respect between him and the students.
According to a 2004 study by David Weisburd of the University of Maryland and John E. Eck of the University of Cincinnati, although community policing efforts don't appear to directly affect crime rates, "when the police are able to gain wider legitimacy among citizens and offenders, the likelihood of offending will be reduced."
The Washington and Ohio officers caught playing basketball aren't the only recent examples of cops tacking toward a less heavy-handed policing style. Earlier this month, a Madison, Illinois, police officer was "cleared of wrongdoing" in the shooting death of an unarmed black teenager.
Anticipating "civil disturbances," Madison Police Chief Mike Koval took to his blog and "offered those who might 'make a principled decision to get arrested' a helpful menu of charges so they could distinguish between acts that would get them fined and those that would get them jailed and stick them with criminal records," according to The Southern Illinoisan:
Koval said he has worked to make his department a model of progressive policing "in terms of casting, or recasting ourselves, reinventing ourselves into a mold more of a community activist and a guardian, and much less emphasis on traditional law enforcement warrior mindset."

He said he has emphasized community policing where cops don't just catch bad guys, but also connect citizens with city services and job training, steer the homeless to shelter, help resolve disputes with landlords.

"I've been accused, or indicted — I actually embrace it — as 'Kumbaya Koval,' because I want to create this guardian image in which I'm trying to cultivate a workforce that are more like social workers with a badge and, oh yeah, there is this law enforcement element that has to take place."

It will not surprise you that Koval is fond of a quote attributed to Sir Robert Peel, the British statesman who founded London's police department: "(T)he police are the public and the public are the police."