Code Enforcement Mania, Misused SWAT Teams, and Police Puppycide Converge in Unholy Trinity for St. Louis Family
Lawsuit says police killed dog after bursting into home-to check gas and electricity service.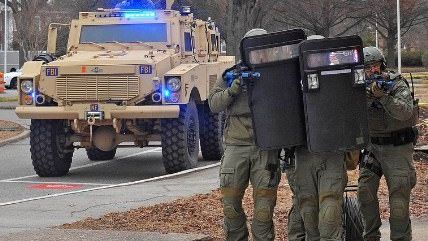 (Official U.S. Navy Imagery / photo on flickr)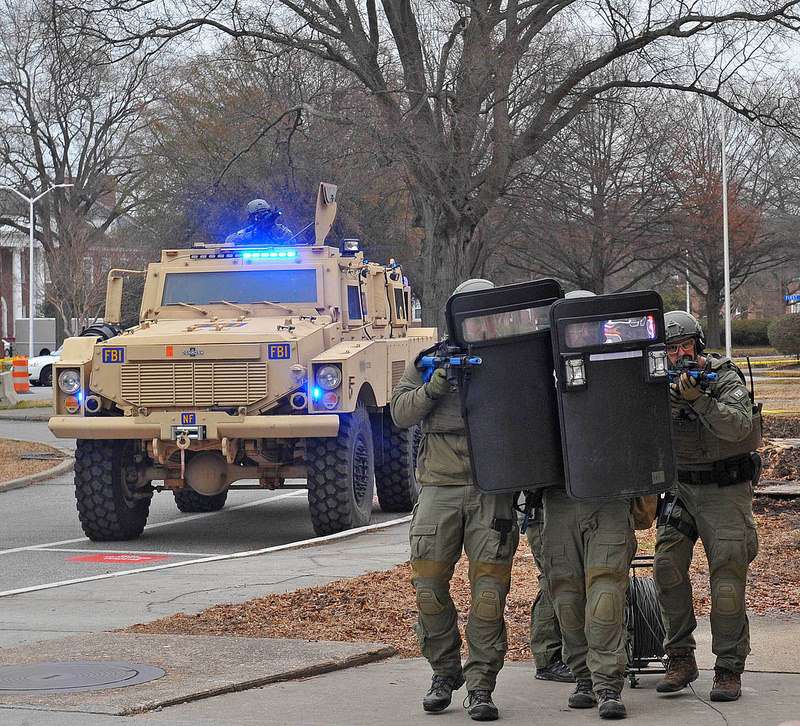 A lawsuit filed against police in the St. Louis County in Missouri sounds like a hat trick of abusive law enforcement behavior. The allegations include the overzealous application of code enforcement, misuse of SWAT teams, and as the topper, the execution of a dog by police.
In short, Angela Zorich and her family in south St. Louis County allege that police used a SWAT team to execute a warrant whose purpose was apparently just to check to see whether their home had gas and electricity and immediately shot Kiya, their 4-year-old pit bull, after bursting into their home. The Riverfront Times in St. Louis documents the timeline of incidents that has the stench of both retaliation and using administrative warrants as a cover for some other form of search:
On April 25, 2014, St. Louis County Police officers came to her house. Her son cussed at them. They inspected the home's exterior and placed a "Problem Properties" sticker on the front window.

On April 28, Zorich called the police to follow up on the matter. An officer told her they were investigating the home for failing to have natural gas or electric service, as required by county ordinance. She admitted that the gas had been shut off, but said the claim about electricity was "bullshit." The officer hung up on her.

Zorich called back and spoke to a different officer. This one sounded angry that he'd been cussed at by her son three days earlier. Zorich tried to set up an inspection for a time when her husband would be home. The officer told her that was fine, but that the investigation would continue in the meantime.

The next day, around 12:41 p.m., Zorich was at home with several family members and her pit bull, Kiya, when a St. Louis County Police Tactical Response Unit burst through the door without knocking, according to her suit. The unit had at least five officers with M-4 rifles, supported by at least eight uniformed officers.

The officers entered so quickly, Zorich's suit alleges, that Kiya didn't even have time to bark. A tactical officer fired three shots into the dog, and the dog's "bladder and bowels released and she fell to the floor." The dog "was laying on the floor in her own waste and blood struggling to breathe. She had a gaping hole in her chest."
Zorich was then taken into custody and given a bunch of citations from the county's housing inspector over the condition of her home. She says that when she got home she found her beds overturned, closets searched, and stuff from shelves thrown on the floor. Then the county condemned the home.
The Riverfront Times asked for a copy of the incident report for the case and information on how frequently officers were attacked by dogs while executing warrants. They were told that it would take up to two weeks to get them the information.
If Zorich's claims are true, the whole situation sounds similar to what police in Orange County, Florida, were doing to barber shops down there. They brought in SWAT raids to perform extremely intrusive "administrative inspections." What they were clearly doing was trying to search for drugs without a warrant. They were rebuked by the feds in 2014. This is an issue going back for years though, and Radley Balko wrote about it back in 2010. Now at the Washington Post, Balko took note of this case as well as the trend of St. Louis County towns to try to extract money from residents via hardcore code enforcement citations.
In this case, the police did have a warrant, but clearly not to search for drugs. There was obviously no need to bring in a SWAT team and burst into the home here, even if the family had a history of being problem tenants and were rude to police. It's not like they were going to try to flush their fuse box down the toilet to destroy the evidence.