Sen. Rand Paul Continues Beating the Drum About the Privacy of Our Metadata
Dissenting justices understood the possible consequences, even back in the 1970s.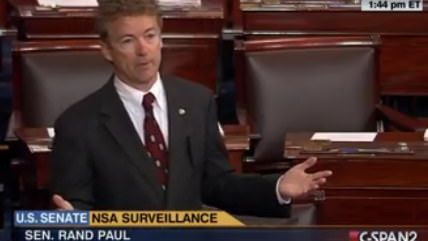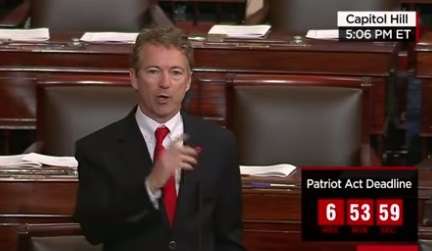 As an anecdotal observation from covering the final push to pass the USA Freedom Act, a considerable number of libertarians (or at least Reason followers) took Sen. Rand Paul's side in the debate. A significant number of you did not want to settle for the compromise represented by the Freedom Act and support Paul for holding out and voting no.
It's understandable, given how little we should trust the National Security Agency (NSA) and our own intelligence leaders given the number of lies and half-truths they've told us about what they're doing. And to be clear, despite describing the Freedom Act as a win when it passed, I also don't think Paul is wrong, either tactically or philosophically, to have voted no. We can't even say with certainty that anything will get better until we start seeing the declassification of future Foreign Intelligence Surveillance (FISA) Court rulings years down the line.
But while some politicians may be satisfied to conclude that the surveillance problem has been "solved" now and wash their hands of the whole thing, Paul is not moving on. He has a commentary over at Time this week hitting back at the argument that third-party records aren't protected or private information. Supporters of the security state during the debate were quick to call on this Supreme Court decision from 1979 to buttress their arguments. In Smith v. Maryland, the Supreme Court ruled that records held by the phone company were not personal or private because they were in the hands of a third party and therefore not protected by the Fourth Amendment. In his commentary, Paul takes note of what the dissenters in that court ruling had to say:
The justices who dissented in Smith v. Maryland, though, were amazingly prescient and on target. Justice Thurgood Marshall—who disagreed with the opinion of the court—wrote that he didn't share the assumption that customers would "typically know" that a phone company tracked calls internally—and that even if they did, there's no way individuals would expect the general public or government to be privy to such records.

Privacy, Justice Marshall argued, is not a "discrete commodity, possessed absolutely or not at all." Citizens who disclose information to a bank or a phone company with a specific intention for business, Marshall maintained, have a reasonable expectation that this information will not be released to outside entities.

Justices Potter Stewart and William J. Brennan also expressed their belief that phone records deserved protection, writing in their dissent that they were "not persuaded that the numbers dialed from a private telephone fall outside the constitutional protection of the Fourth and Fourteenth Amendments."

Stewart and Brennan maintained that a private citizen at home has an assumption of privacy regarding whom he or she contacts, and a constitutional right to privacy. "The numbers dialed from a private telephone—like the conversations that occur during a call—are within the constitutional protection," Stewart and Brennan wrote. "The information captured by such surveillance emanates from private conduct within a person's home or office—locations that without question are entitled to Fourth and Fourteenth Amendment protection."

The numbers dialed are "not without 'content,'" they argued—and despite that phone books are in the public domain, most customers would not want their call log revealed to the world. "This is not because such a list might in some sense be incriminating, but because it easily could reveal the identities of the persons and the places called, and thus reveal the most intimate details of a person's life," they argued.
Prescient, indeed. Since the public discovery that the NSA has been collecting all sorts of metadata about Americans there have been a number of experiments that showed that those justices were exactly right: You can learn a lot about a person from just his or her metadata. I mean, obviously this was the case; it's a little silly this is even an argument. If the government couldn't learn a lot from people's metadata, they wouldn't be fighting so hard to keep the authority to collect it.
Read Paul's full commentary here. The next item on the agenda for privacy politicians is stopping the government from demanding that companies or products provide "back doors" to allow the FBI or other agencies to bypass its encryption and to prohibit funding for the government to undermine encryption. The House, pushed by folks like Rep. Thomas Massie (R-Ky.), one of Paul's sidekicks during the Freedom Act debates, and Rep. Ted Poe (R-Texas) has this week approved amendments in these areas. Read more about them here.