Raleigh Restauranteur Pushes Local Government to Regulate Sidewalk Seating
Of course, the proposed change only affects his competition...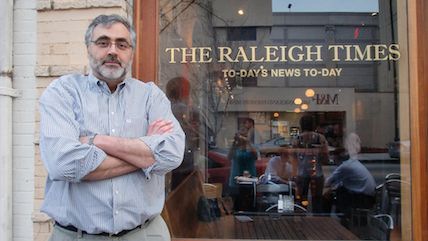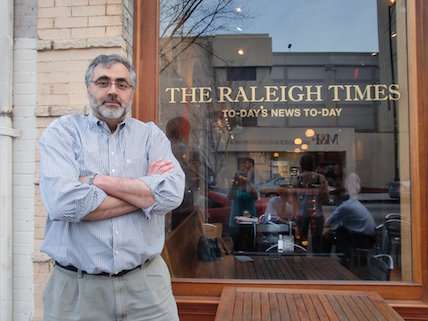 Outdoor seating may soon be a thing of the past for some Raleigh watering holes.
Currently, bars and restaurants in North Carolina's capital city can apply for a permit for outdoor seating, but as The News & Observer reports, a proposed ordinance would change what types of businesses qualify:
If the council approves the new rules later this month, bars such as Paddy O'Beers could lose their sidewalk seating permits as soon as July 1. Establishments that make at least 30 percent of their money by selling food, however, would be allowed to keep their tables on public property.
Supporters of the proposal say some residents have complained about the sidewalk seating. They also cite concerns over liability and pedestrian access.
Representatives for several downtown businesses met Monday to discuss the proposal. Dan Lovenheim, who owns several Raleigh bars, polled the attendees of the meeting, according to The N&O:
Its only vocal supporter was a representative of Empire Properties. Empire's flagship, The Raleigh Times restaurant and bar, regularly puts large crowds on the sidewalk of Hargett Street.
So why is a prominent restaurant owner supporting a law that would limit outdoor seating? According to the story, The Raleigh Times "likely sells enough food to keep its seating permits," while some of its competitors do not.
While Assistant City Manager Marchell Adams David said Empire was not involved in bringing the proposal, it's not surprising Empire supports the change—Empire's owner, Greg Hatem, is no stranger to wielding the club of local politics against competition.
In January, Hatem used his clout to push the city council to delay issuing any new "amplified outdoor entertainment permits," which allow bars to play music with their doors or windows open. He backed up his request with a claim that the area was becoming "unlivable" due to the late-night din emanating from the downtown bar scene.
But some local business owners could read between the lines. "He's saying, 'I've got mine. I don't want anybody else to have theirs,'" Van Alston, another downtown bar owner, told IndyWeek.
Lawmakers (or in this case, a particularly well-situated business owner) frequently cite "safety" or "public good" when advocating restrictions on the sale and consumption of alcohol (or other regulations), but as Kevin Kosar of The R Street Foundation Institute points out, "Myriad regulations bear no relationship to the public good, limit consumer choice and profit the politically well-connected at a cost to the public."