The Club for Growth Cuts an Ad for Alan Grayson
Left/right alliance of the day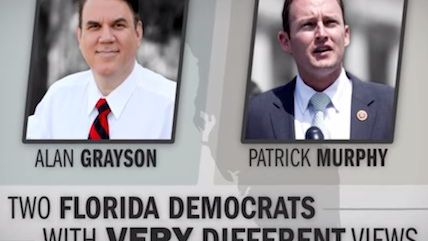 Controversial congressman Alan Grayson (D-Fl.) might enter Florida's upcoming Senate race. He just got some unexpected support:
Yep: That's the Club for Growth, a group associated with the Tea Party wing of the GOP, whose name appears at the end of the ad. The Palm Beach Post explains:
The conservative Club For Growth is no fan of liberal Rep. Alan Grayson, D-Orlando, giving him a lifetime 13 percent rating on its congressional scorecard.

But Grayson's potential 2016 Senate candidacy is the only realistic Democratic alternative to Rep. Patrick Murphy, D-Jupiter, whose fundraising prowess and ability to win crossover votes could pose a problem for the GOP in Florida's pivotal 2016 U.S. Senate race.

So the Club For Growth, which has endorsed conservative Republican Rep. Ron DeSantis in the Senate race, [yesterday began] running statewide TV ads on left-leaning MSNBC and other stations commending Grayson and criticizing Murphy for their stances on reauthorizing the Export-Import Bank.

Ex-Im is a government entity that makes subsidized loans to help exporting businesses. Free marketeers like the Club For Growth and Americans For Prosperity have joined some liberals in criticizing Ex-Im as an example of crony capitalism
So this is partly a political move—the group thinks DeSantis has a better shot against Grayson than Murphy—and partly a recognition that on the Ex-Im Bank and some similar issues, the Club has more in common with populist Grayson than corporatist Murphy.
Not surprisingly, Murphy intends to turn the ad back against his possible opponent:
"The fact that an ultra-right-wing Super PAC that aims to privatize Social Security is attacking Patrick is the clearest sign that he's the strongest candidate in this race," Murphy campaign manager Josh Wolf said.